Highlights:
Halo Master Chief Collection to be available on PC.
Can be downloaded from Steam or Windows Store.
No release date or price revealed yet.
For the last few years, Microsoft has continued to close the gap between PC and Console gaming. The company announced Play Anywhere, a concept where games bought for the Xbox (or PC through the Microsoft Store) would be playable on the other system. This, of course, only works for those titles that support it, and Microsoft had pledged that all first party AAA titles will be Play Anywhere. However, one glaring omission from the list was Halo.
With the launch of the Xbox One, Microsoft released Halo: Master Chief Collection, a combination of all four main Halo games along with their extra content, but only for the Xbox. Later, Halo 3:ODST and Halo Reach were added to the collection as well. Today, Microsoft has announced that Halo: Master Chief Collection will be coming to PC and will be available through both Steam and Microsoft's own Windows Store.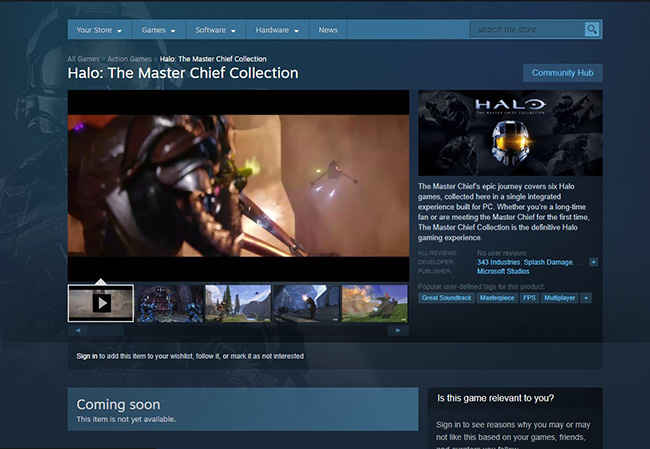 Halo Master Chief Collection coming soon on Steam
As of now, there is no release timeline, but what we do know is that the collection will be relased in stages. The first game to be made available will be Halo: Reach, followed by the games being released in their chronological order. The staggered release is to ensure that 343 Industries gets the games right. "We're embarking on a journey with our community to build 7a PC experience that delivers on PC gamer expectations," community director Brian Jarrard said. "The team is passionately committed to ensuring that all of the features, bells, and whistles expected in a modern PC title are included with MCC."
Halo Master Chief Collection is coming to PC and that is great news. However, you're going to have to buy each game individually when its released from within the Collection's interface. Whether Halo Master Chief Collection will be a Play Anywhere title or not has not yet been disclosed. However, it wouldn't be unfair for Microsoft to charge for the games, given the massive effort involved in bringing the Collection to PC. Pricing will definitely play a crucial role in the success of the game, but probably more important will be the first few days after the launch. Hopefully, Microsoft will be able to release the game with little to no critical bugs and not subject players to massive Day 1 patches.
Related Reads: Xbox shows Forza Horizon 4 running on an Android smartphone thanks to Project xCloud