Angry Birds for PC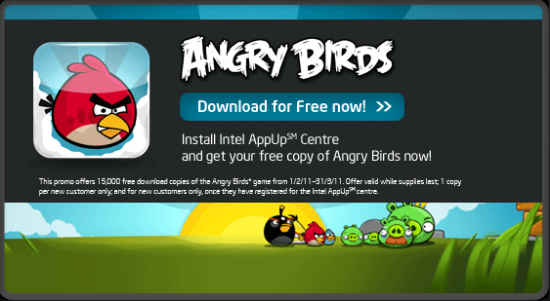 Angry Birds sure has taken the world by storm, spawning versions across mobile platforms and topping download charts across app stores with over 50 million downloads globally. Developers Rovio had decided to release a limited-time-only free-for-PC version of the game, available here. The first 15,000 downloads were free, but they are all gone! So follow Rovio's advice, and "don't get angry, get even!", by buying it for about $5 at the Intel AppUp PC store.
Sony's gets its cross-jurisdiction restraining order granted
Sony has managed to extract a temporary restraining order from a district judge against the notorious George Hotz, or Geohot as we know him. In essence, the restraining order is quite effective, if "temporary".
The restraining order bans George Hotz from "offering to the public, creating, posting online, marketing, advertising, promoting, installing, distributing, providing, or otherwise trafficking" any methods or software that might circumventing the PS3's security. Additionally, he has been barred from "engag[ing] in acts of circumvention of TPMS in the PS3 System to access, obtain, remove, or traffic in copyrighted works."
Let us see how all this works out!

Twisted Pixel's The Gunstringer will support Kinect
Twisted Pixel, the makers of Splosion Man, the Maw, and other great titles, has revealed its latest game in development - The Gunstringer. Featuring a control system for Kinect, the game wil be available on XBLA soon. According to lead designer, Dan Teasdale, "The Gunstringer is unlike any Kinect game you may have played previously. There are no minigames, forced gestures, or end of level photos of you in your underwear here. You can play it sitting down, which is great if you just want to play and relax rather than burn crazy calories. Most importantly, you can aim and move with precision not seen in any of the Kinect launch titles, and with a speed and feel that's just not possible with a traditional controller."
He adds: "From the start of this project, we've focused on getting across the feel of marionetting a puppet's movement through a 3D world, then mixing that with the fun and mayhem of targeting-focused shooters like Rez. One minute you'll be navigating the Gunstringer over tricky ravines or towards secret paths, the next you'll be ducking behind cover to take out a half-dozen clockwork alligators with your six shooter."
Lord of the Rings: War in the North's protagnists

Check out the latest trailer for the upcooming Lord of the Rings: War in the North game, which includes a new heroic team that comprises of the the "Loremaster of Rivendell", the "Ranger of the North," and the "Champion of Eriador", below: