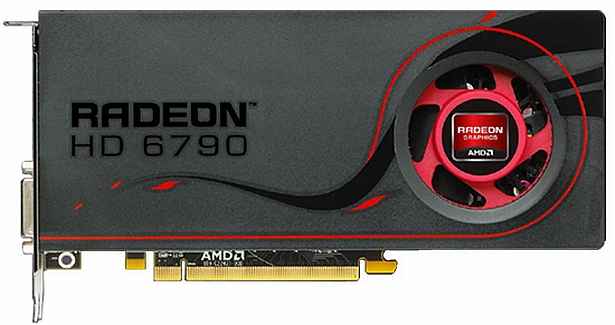 AMD has released its cheapest retail HD 6000 series GPU today, the Radeon HD 6790, priced at $149, below the HD 6850. Presumably meant to take on the recently released GTX 550 Ti at the price, the Radeon HD 6790 actually takes on the GTX 460 768MB variant instead, as Nvidia has just slashed prices of the GTX 550 Ti by roughly $20, to $130.
For those of you wondering how the HD 6790 is the cheapest desktop HD 6000 series card, and if we aren't forgetting about the HD 6770 and the HD 6750, note that those are actually rebadged HD 5700 series models only for OEMs.
The HD 6790 seems like AMD's answer not just to Nvidia's high-end mainstream competition, but also to its HD 6850 binning woes. The HD 6790 is based on the same design as the HD 6850, but has slightly faster clocks, half the ROPs, reduced texture units and stream processors. Unfortunately, as the HD 6850 was a salvaged GPU of the HD 6870, this makes the HD 6790 a "3rd tier" card in AnandTech's words.
Just like the HD 5830 or the GTX 465 were in their series. Such cards, and the HD 6790 is apparently not an exception, have the power draw of the 1st tier or top-end card, but the lowliest performance of the series. Check out the comparative specs in the table below:
Model

Radeon HD 5770

Radeon HD 6790

Radeon HD 5830

Radeon HD 6850

GeForce GTX 460 768 MB

GeForce GTX 550 Ti

Shader Cores

800

800

1120

960

336

192

Texture Units

40

40

56

48

56

32

Full Color ROPs

16

16

16

32

24

24

Graphics Clock

850 MHz

840 MHz

800 MHz

775 MHz

675 MHz

900 MHz

Shader Clock

850 MHz

840 MHz

800 MHz

775 MHz

1350 MHz

1800 MHz

Memory Clock

1200 MHz

1050 MHz

1000 MHz

1000 MHz

900 MHz

1025 MHz

GDDR5 Memory

1 GB

1 GB

1 GB

1 GB

768 MB

1 GB

Memory Interface

128-bit

256-bit

256-bit

256-bit

192-bit

192-bit

Memory Bandwidth

76.8 GB/s

134.4 GB/s

128 GB/s

128 GB/s

86.4 GB/s

98.5 GB/s

Texture Filtering Rate

34 GTex/s

33.6 GTex/s

44.8 GTex/s

37.2 GTex/s

37.8 GTex/s

28.8 GTex/s

Connectors

2 x DL-DVI,

2 x DVI,

2 x DVI,

2 x DVI,

2 x DL-DVI,

2 x DL-DVI,

1 x HDMI,

1 x HDMI,

1 x HDMI,

1 x HDMI,

1 x mini-HDMI

1 x mini-HDMI

1 x DisplayPort

2 x DisplayPort

1 x DisplayPort

2 x DisplayPort

Form Factor

Dual-slot

Dual-slot

Dual-slot

Dual-slot

Dual-slot

Dual-slot

Power Connectors

1 x 6-pin

2 x 6-pin

2 x 6-pin

1 x 6-pin

2 x 6-pin

1 x 6-pin

Recommended Power Supply

450 W

500 W

450 W

500 W

450 W

400 W

Thermal Design Power

108 W

150 W

175W

127 W

150 W

116 W
Continuing with the 3rd tier product lineup, it would have made sense to call the HD 6790 the HD 6830, filling up the HD 6800 series just like the HD 5830 did for the HD 5800 series. However, the HD 6790's performance is much closer to the last generation HD 5770 than to the HD 5830, and this is probably the reason AMD placed it in the HD 6700 series.
[RELATED_ARTICLE]To be noted however, that the HD 5830 and its 3rd tier flaws were due to the fact it was a salvaged-salvaged top-end Cypress GPU (i.e., HD 5870). In the case of the HD 6790 however, it is a salvaged-salvaged HD 6870 or Barts GPU, and not AMD's top-end Cayman lineup. This gives the HD 6790 a fighting chance in the performance vs power vs temperature battle.
While the reference HD 6790 used for early benchmarks had AMD's efficient HD 6800 series cooler design onboard, no partner cards will feature that design, but instead, their own cooling solutions. Check out a Sapphire design below: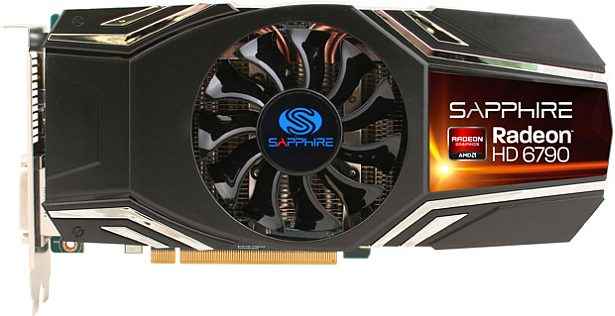 On the whole, most reviews feel that AMD has made one of the same mistakes with the HD 6790 that it made with the HD 5830 – it has priced it too at launch, compared to its 2nd tier part. So while the HD 6790 does significantly better than the now lower priced GTX 550 Ti, but, does not compare to the equally-priced GTX 460 768MB, or the just $10 more expensive HD 6850. This effectively leaves the HD 6790 in a peculiar segment of its own –catering to those looking to buy a card this very moment, with a un-stretchable $150 budget.