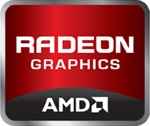 AMD announced today that it has released its Catlyst 11.1 video drivers for both Windows and Linux platforms, as well as the Catalyst 11.1 hotfix driver.
Chief among the changes in the Windows version this time around is a new version of the Catalyst Control Center software that accompanies the driver. It offers simpler and more intuitive controls throughout; and more accessible settings for adjusting image quality within games, setting up multiple displays using cards that support AMD's Eyefinity multimonitor technology, and adjust power settings to increase battery life in laptop PCs. It offers two unique views, for both advanced and beginning users, and will dynamically update its user interface depending on what AMD hardware you have installed.
[RELATED_ARTICLE]Support for OpenGL 4.1 is also in the Windows version, with new features that include full compatibility with OpenGL ES 2.0 APIs (for easier porting between desktop and mobile platforms), the ability to query and load a binary for shader program objects (to reduce recompilation time), the capability to bind programs individually to programmable stages (thus improving programming flexibility), multiple viewports for a rendering surface, and 64-bit floating-point component vertex shader inputs to increase geometric precision.
Performance enhancements have occurred as well, in F1 2010 (for systems with single AMD Radeon HD 5800- or 6000-series cards running without anisotropic filtering and anti-aliasing enabled), and Left 4 Dead 2 (for systems with single or multicard setups with 6800-series cards or single 6900-series cards and no anisotropic filtering or anti-aliasing).
In addition to OpenGL 4.1 support, the Linux version of the Catalyst 11.1 driver also introduces support for the production version of RHEL 6 or the early-look version of RHEL 5.6.
The 11.1a hotfix driver improves performance for Radeon HD 6800- and 6900-series cards in a number of applications, adds tessellation controls to the Catalyst Control Center, and updates Catalyst AI texture filtering for both the Quality and Performance settings.
To download the Catalyst 11.1 driver for either Windows or Linux systems, visit AMD.com. The Catalyst 11.1a hotfix may be obtained from this special Knowledge Base page on AMD's Web site.

Copyright © 2010 Ziff Davis Publishing Holdings Inc.