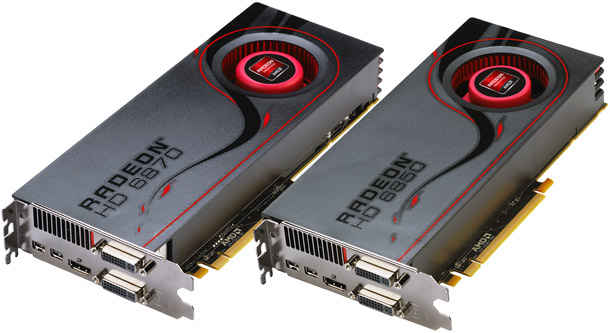 Just like we reported a week ago, AMD has indeed launched the Radeon HD 6800 series this week, or more specifically - today. Forgoing the ATI brand name, AMD is introducing two cards to begin with - the HD 6870 and the HD 6850, which unlike what you'd expect, are the next-gen replacements for the HD 5770 and the HD 5750, or the performance-mainstream market. The upcoming HD 6900 series, which is now rumoured to arrive sometime before the end of the year, will replace both the HD 5800 and 5900 series, or the high-end performance market.
The HD 6850 has a suggested retail price of $179.99, while the HD 6870 has a suggested retail price $239.99, and are already available in various partner models on such e-tailer sites as Newegg. Apart from full support for 6-way Eyefinity, AMD claims that HD 6800 series has better tessellation execution that helps give up to 30% performance improvement over Nvidia's competing graphic cards, as seen below: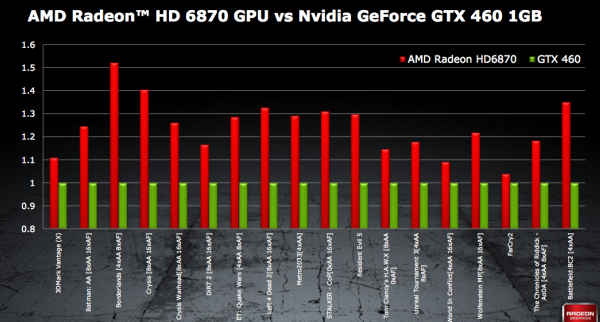 An AMD spokesperson commented on the HD 6800 series improved morphological anti-aliasing and anisotropic filtering performance, and stressed on their adaptive tessellation ability that uses only uses high levels on nearer objects that require finer detail, rather than a "brute force approach".
[RELATED_ARTICLE]"The 6800 lineup tessellates the right way, as it focuses on the most efficient usage models. You ideally want ~16 pixels per polygon, as this facilitates the best balance of image quality and performance."
"As such, the 6800 lineup is capable of delivering full-scene anti-aliasing that is not limited to polygon edges or alpha-tested surfaces. In addition, the GPUs offer improved Anisotropic Filtering via a refined algorithm that addresses visible discontinuities in very noisy textures. This results in smoother transitions between filter levels, while ensuring full performance and angle independence."
Full specifications reveal the HD 6800 series falls someway in between the HD 5800 and 5700 series, and after you check them out below, be sure to check out some benchmarks that show it outperforming the 5800 series in some cases. In related news, the Nvidia has also dropped the prices (up to $90) of its performance cards, with the GTX 460 768MB now priced at $170, GTX 460 1GB at $200, and GTX 470 1280MB at $260.
| | | | | | | |
| --- | --- | --- | --- | --- | --- | --- |
| GPU | AMD Radeon HD 6870 | AMD Radeon HD 6850 | ATI Radeon HD 5770 | ATI Radeon HD 5750 | ATI Radeon HD 5870 | ATI Radeon HD 5850 |
| Stream Processors | 1120 | 960 | 800 | 720 | 1600 | 1440 |
| Texture Units | 56 | 48 | 40 | 36 | 80 | 72 |
| ROPs | 32 | 32 | 16 | 16 | 32 | 32 |
| Core Clock | 900MHz | 775MHz | 850MHz | 700MHz | 850MHz | 725MHz |
| Memory Clock | 1.05GHz (4.2GHz effective) GDDR5 | 1GHz (4GHz effective) GDDR5 | 1.2GHz (4.8GHz data rate) GDDR5 | 1.15GHz (4.6GHz data rate) GDDR5 | 1.2GHz (4.8GHz data rate) GDDR5 | 1GHz (4GHz data rate) GDDR5 |
| Memory Bus Width | 256-bit | 256-bit | 128-bit | 128-bit | 256-bit | 256-bit |
| Frame Buffer | 1GB | 1GB | 1GB | 1GB / 512MB | 1GB | 1GB |
| Transistor Count | 1.7B | 1.7B | 1.04B | 1.04B | 2.15B | 2.15B |
| TDP | 151W | 127W | 108W | 86W | 188W | 151W |
| Manufacturing Process | TSMC 40nm | TSMC 40nm | TSMC 40nm | TSMC 40nm | TSMC 40nm | TSMC 40nm |
| Price Point | $239 | $179 | $159 | $129 / $109 | $379 | $259 |