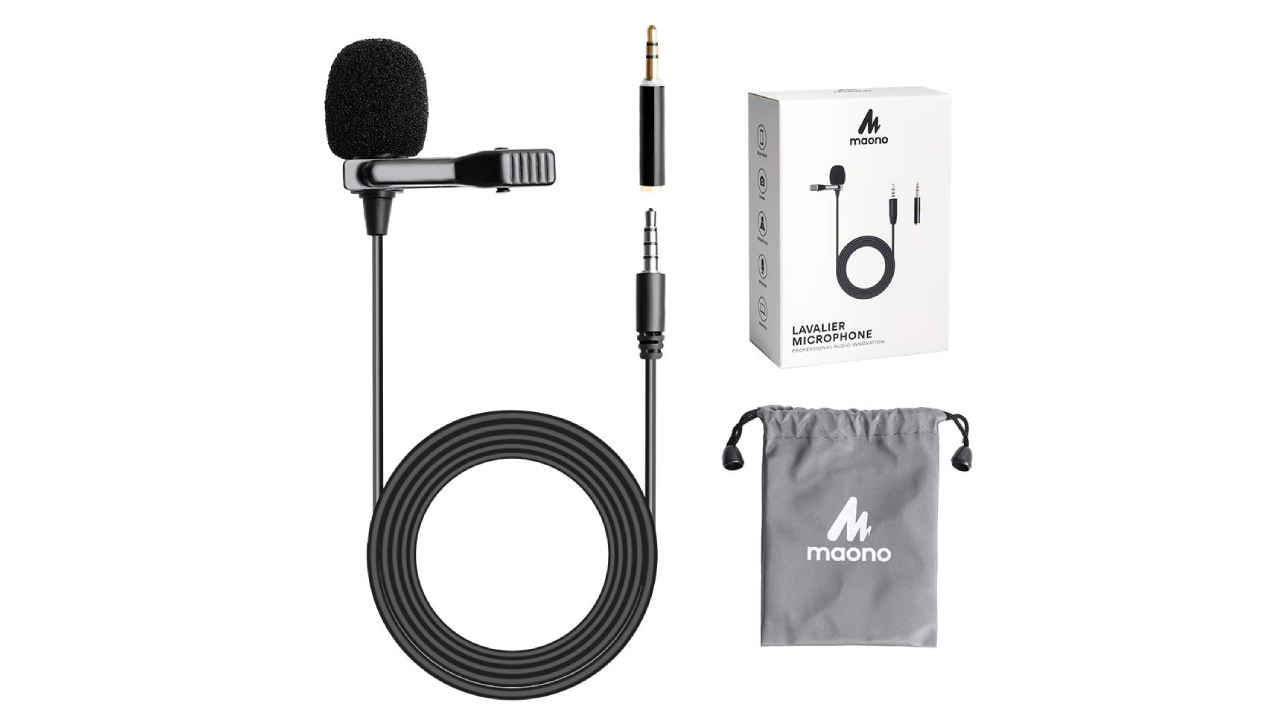 For recording youtube videos, vlogs, podcasts, Instagram reels, online classes, attending video conferences, gaming, streaming and more, you need a lapel mic. These mics are small, easy to use and work with a range of devices. They can be attached to your clothing, and then your hands are free to carry out all tasks while your voice is clearly transmitted. These days, it is vital to have a mic of your own so that your friends, teammates, professional coworkers, or audience can hear you clearly. Picking out a mic can be quite tricky, so here's a list of the top lapel mics for recording, which you can find on Amazon.
JBL Commercial CSLM20 Omnidirectional Lavalier Microphone
The JBL Commercial CSLM20 is an omnidirectional lavalier microphone with an earphone. It comes with a windshield, a tie-clip, and a carry pouch, all features for ease of use. Using the windshield, it can record audio in all conditions, while the tie clip keeps wires at bay and leaves your hands free. The added earphone makes it ideal for monitoring from the same device and in real-time. Whether you're recording your next hit YouTube cover or making an Instagram video, you can monitor your content easily. The earphone also makes it an ideal mic for work-from-home professionals as it's perfect for video & conference calls. It is compatible with most smartphones, laptops, PC/Mac, and tablets, so you shouldn't have a problem working with it.
Boya BYM1 Omnidirectional Lavalier Condenser Microphone
Boya BY-M1 is an omnidirectional lavalier microphone designed for Smartphones, DSLR, Camcorders, Audio recorders, PC, etc. It is perfect for video use as well. With the Omni pickup pattern, for full 360' coverage, it gives you the possibility to capture anything in your sight. Super sound for presentations and video audio recorders makes it a great pick for all cases. The omnidirectional condenser microphone can pick up sounds clearly from all directions. Its quality condenser is ideal for video use, such as vlogging. It also has low handling noise. In the box, you get 1 lapel clip, 1 foam windscreen, and an LR44 battery for convenience.
Mezire 3.5mm Clip Microphone
This is a simple, plug and play microphone. You can simply hook it up to the 3.5mm jack in your PC, laptop, mobile phone or tablet and use it as a regular microphone to transmit your voice clearly. You can also create audio files and use them for video recording with smartphones as well as DSLRs. Overall, the microphone is lightweight and simple in design. It has a nifty clip, which you can attach to your outfit and have it recording on the go. The mic is ideal for youtube videos, podcasting, vlogging and more.
Maono AU-400 Lavalier Microphone
Here is a microphone that is compact and easy to use. It is compatible with almost all devices that house a 3.5mm audio port. It can be used with Android smartphones, iPhones, Apple computers, Windows PCs and laptops, tablets, DSLRs and audio monitors. It picks up sound equally from all around the microphone, allowing for versatility when mounting and ensuring a high degree of professional audio recording quality. With the help of a 78-inch cord, podcasting, recording, making videos, and more at a distance with your mobile or laptops is much easier. An Extra 3-pin Adapter for DSLRs, which makes it more versatile