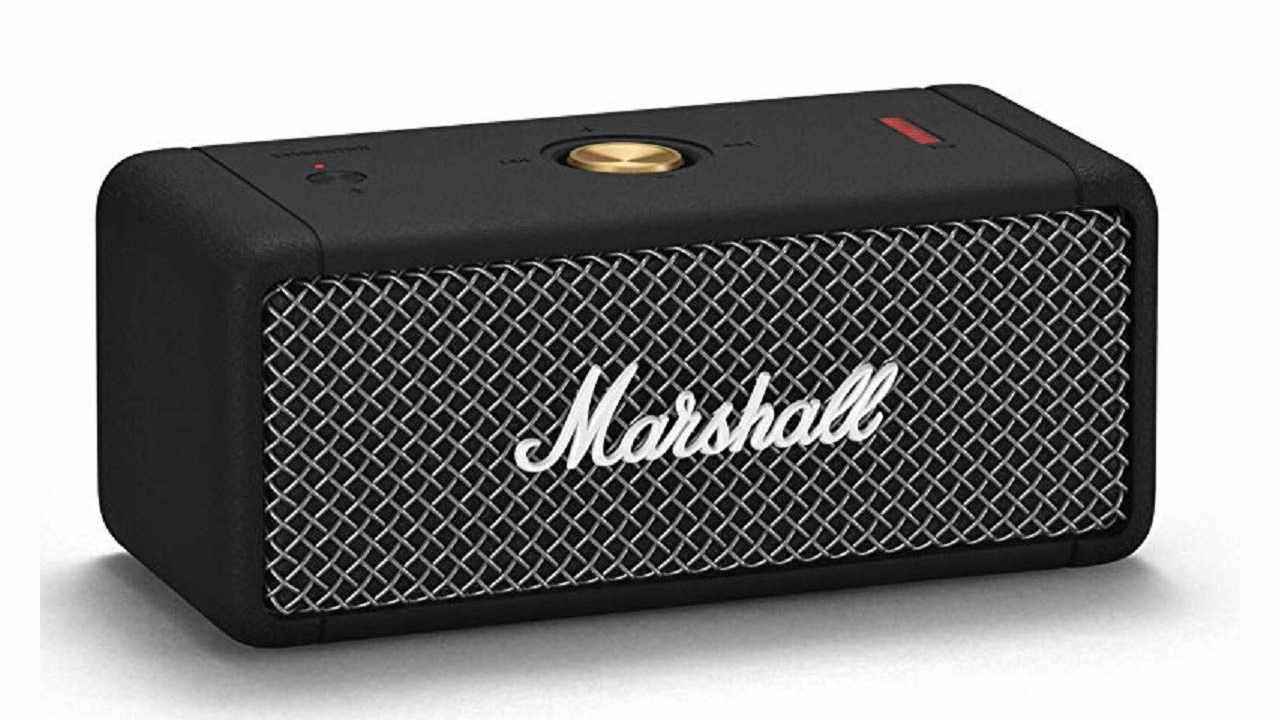 Music has been fundamental to humankind for ages, and the development in technology has enabled listeners and music enthusiasts to obtain the right equipment for the same. The rise of Bluetooth speakers is due to the portable nature of the audio devices, along with the ease of access provided by its inherent features such as Bluetooth connectivity and wireless operation. Music fanatics, audiophiles, as well as casual listeners can now hear their favourite music, on-the-go with the Bluetooth speakers. One of the nuanced features of high-fidelity audio devices is their ability to establish a style statement of their own, with the appearance of their speaker's design. Here are some of the most stylish and elegant Bluetooth speakers that are perfect to rock your party playlists:
Harman Kardon Aura Studio 3
Premium and luxury audio manufacturer Harman Kardon have re-engineered their signature dome-shaped Bluetooth speakers to create the Aura Studio 3. As an exquisite surround sound system in itself, Aura Studio 3 has a 10'' dedicated subwoofer that packs a punch. Designed elegantly to fit right in with your home decor, the speaker has some unique features. It is equipped with a Ripple Ambient Lighting effect that exudes a tranquil ambience, to enhance your listening experience with a visual treat. Aura Studio 3 bears outstanding 360° surround sound, ambient lights, and combines it with a sublime tinted dome design, as a sophisticated blend of style and top-notch sound quality. Offering a truly immersive listening experience, Aura Studio 3 has won the Red Dot award 2020, as well as the iF product design award for 2020 for its exemplary style.
Marshall Emberton
International manufacturer of high fidelity audio equipment Marshall has just introduced the Emberton, a series of luxury Bluetooth speakers with True Stereophonic technology. It hosts a unique form of multi-directional surround sound that offers an immersive audio experience. Marshall Emberton boasts exquisite high-quality sound drivers, with a robust design that enhances durability while maintaining its crisp soundstage. As an IPX7 water-resistant Bluetooth speaker, it can survive up to 30 mins underwater, while offering wireless Bluetooth connectivity with up to 20+ hours of playback. Weighing at just 0.7kg, the Emberton speaker is designed to fit the palm of your hand, making it a perfect companion for your outdoor parties. The multi-directional control knob adds to the intuitive design, stylized by the Marshall logo utilizing the most premium components for the classic Emberton speakers.
Sony MHC-V43D
Sony has been a leading manufacturer of some of the finest audio equipment for more than 6 decades now. Hailing from their series of high power party speakers, MHC-V43D is a portable Bluetooth speaker that is packed with numerous functionalities and features. One-touch NFC and Bluetooth 4.0 enabled V43D is a powerhouse in itself, with built-in DVD player, Gesture controls, Karaoke, Digital Sound Enhancement Engine (DSEE) and party lights. A distinguishable feature of this Bluetooth speaker is its multi-device support, and its ability to adapt to its surroundings. This is done with the help of its Jet bass boosters, high-efficiency midrange speakers, and expandable tweeters. The result is a portable speaker that can effectively function at an outdoor setting as well as indoors. The party lights and the speaker lights add to the stylized and high-tech modern look of these party speakers.
Altec Lansing IMW899 Soundbucket
Altec Lansing is an audio electronics company located in the U.S, that specializes in manufacturing high-fidelity audio equipment. The IMW899 Soundbucket is a revolutionary portable Bluetooth speaker, with a unique set of features that are specific to this device. Equipped with Qi wireless charging on its top, IMW899 hosts strobe party lights along with speakers in all directions. The multi-device feature to connect to other Bluetooth speakers makes this Soundbucket a perfect choice for house-parties. An IP67 water-resistance rating enhances the durability and portability of this Bluetooth party speakers, along with the 'Just ask' voice-enabled feature equipped with Google Assistant and Siri. The IMW899 is the perfect combination of style with durability.