Sony has unveiled its Extra Bass lineup for 2017 in India. The company has introduced two new headphones as well as a four portable wireless speakers. The headphones start at Rs. 2,790 and will start from April 20, while the portable wireless speakers start at Rs. 3,590 and will be available from April 25.
The Extra Bass family of headphones include the MDR-XB950B1, MDR-XB550AP, and the MDR-XB510AS, which are priced at Rs. 12,990, 3,290 and Rs. 2,790 respectively. The company says that the Sony MDR-XB950B1 is made for EDM Music and offers enhanced bass response, with support for Bluetooth audio streaming. It also comes with NFC for connecting easily. The headphones are compatible with the company's Sony Headphones Connect app that allows users to control the sound levels easily. Sony says that the app adjusts the amplitude of audio signals at particular frequencies to emulate different listening experiences. Users can also tune bass levels with the CLEAR BASS feature. The Sony MDR-XB950B1 wireless headphones offer 18 hours of continuous wireless playback. In case of low battery, users can use the passive mode to continue listening. Further, the headphones also come with an integrated microphone and Bluetooth for handsfree calling.
The Sony MDR-XB550AP wired on-ear headphones sports 30mm driver units with a 5 - 22,000Hz frequency response. The cable sports an in-line remote with controls to call answer/end and audio track play/pause. Further, the Smart Key app lets users customize the in-line remote from their smartphone. The earphones come with four sizes of earbuds and arc supporters for stable fitting. Other features include clip, cord adjuster, and a mesh carry case.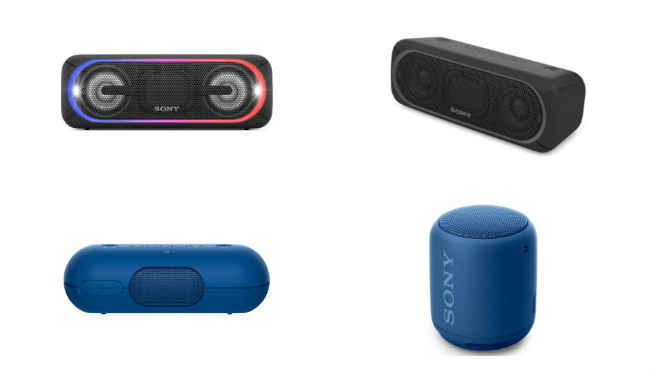 The four new portable wireless speakers unveiled are the SRS-XB40, SRS-XB30, SRS-XB20 and the SRS-XB10. These are priced at Rs. 13,990, Rs. 9,990, Rs. 6,990, Rs. 3,590 respectively. All four speakers come with one-touch connectivity, music streaming, as well as support for NFC and Bluetooth. The Sony SRS-XB40, SRS-XB30, and the SRS XB-XB20 come with a come with lighting effects. The SRS-XB40 features an LED perimeter line-light, a strobe flash and speaker light, which are synchronised with the music. The SRS-XB30 also features a simialr multi-colour line-light and strobe while the SRS-XB20 features a single colour line-light which compliments the speakers colour. All three speakers can also be wirelessly chained together. Up to 10 speakers can be wirelessly chained together.
The smallest speaker, the SRS-XB10 offers two listening styles. In vertical mode, the sound is omni-directional, while in horizontal mode, it offers directed sound. The silicon strap can not only be used to attached the speaker to to other things like backpacks, but also acts as a stand for the speaker.