The latest Samsung Gear IconX comes with touch and voice controls for an enhanced experience. The Rs 13,990 earbuds also read out the incoming callers' name, messages, and notifications.
As it gets all set to unveil its latest flagship Galaxy Note 9 in less than two weeks time, Samsung has launched its lightweight cord-free earbuds Gear IconX to give users an enhanced on-the-go music experience. The latest earbuds come with Bixby support, which means you can now use voice commands to complete your tasks. The Gear IconX will be available in Black colour for Rs 13,990 at major retail outlets, Samsung Online Shop (shop.samsung.com/in), and Flipkart starting July 26.
Samsung says that the latest earbuds are designed around the human ear to ensure a comfortable, yet secure fit to last through the most intense activity. "Gear IconX brings a lot of enhancement besides completely cord-free usage, including Bixby voice commands, activity tracking and, most importantly, the music experience. These lightweight and comfortable earbuds are an ideal music companion for consumers who needs tangle-free movement of their hands while working. It also has special features for the fitness enthusiasts," Aditya Babbar, General Manager, Mobile Business, Samsung India, said.
Samsung Gear IconX Features: The Gear IconX's standalone music playback and 4GB of built-in storage allow users to listen to music without being connected to a smartphone. They can easily load the songs either wirelessly or from the phone or PC using a USB cable. The touch-based gestures allow for the usual play, pause and skip track functions. "A lot of consumer insights have been incorporated in terms of design aesthetics, comfort and usability of these earbuds. For example, a touchpad eliminates the need for keys or press buttons that is uncomfortable and irritating for the users," Babbar added.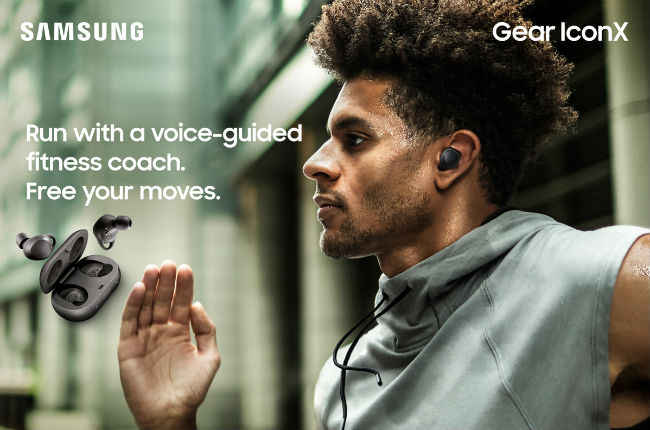 The wearable also has an equalizer feature with pre-loaded Bass Boost, Soft, Dynamic, Clear and Treble Boost presets, as well as an enhanced Ambient Sound function that enables users to specify exactly how much ambient sound they like the earbuds to let in. When it comes to taking calls, the Gear IconX reads out the incoming callers' names, messages, and notifications. Tho bring up Samsung's digital assistant, Bixby, users need to tap and hold the earbud to use voice to control, place a call, or send a message.
The South Korean giant claims that the Gear IconX are sweat resistant and are ideal for people who work out. The wearables can be paired with other dedicated tracking devices like the Gear S3 Frontier or the Gear Fit2 Pro, to track fitness activities. Apart from this, the earbuds can also double up as an in-ear running coach as they syncs-in with the Pace Setter feature on the Samsung Health platform. Once synced, the Pace Setter on the phone coaches the user by voice commands with predefined activity regimes.
The Gear IconX comes with fast-charging and battery life of up to five hours of music streaming or seven hours of standalone music playback. The earbuds are accompanied by a charging case, just like the first-gen IconX. Samsung claims that a quick charge of 10 minutes in the case gives users one hour of connectivity.