Qualcomm has announced its latest QCC305x truly wireless earbud chipset that is said to bring premium features at an affordable price point. It is ready for the Bluetooth LE (low-energy) Audio standard that was announced at CES by Bluetooth SIG. The new standard might soon be used by this chip once it is ratified.
The QCC305x is a powerful chipset with four additional cores compared to its predecessor, the 304x. The chipset brings several other premium features that will take things up a notch for lower-priced true wireless earbuds. The chipmaker expects to see the first wireless earbuds with the new chipset by the first half of 2021.
Here are some of the key features that Qualcomm is bringing from the top tier to the mid and low range TWS earbuds-
Hands-free voice assistant
Interacting with Alexa and Google Assistant built-in the headphones might not sound new to many, but the new chipset promises to bring this functionality to a more affordable price point. Users will be able to call the wake word and give commands like make a call, read a text, play a song etc to the earbud without needing to spend a lot.
Adaptive active noise cancellation
This feature is generally seen on high-end and premium headphones and earbuds, but Qualcomm has promised to bring it to the masses with the QCC305x. It essentially adjusts and eliminated outside noise as per the fit and activity of the user to offer an uninterrupted listening experience.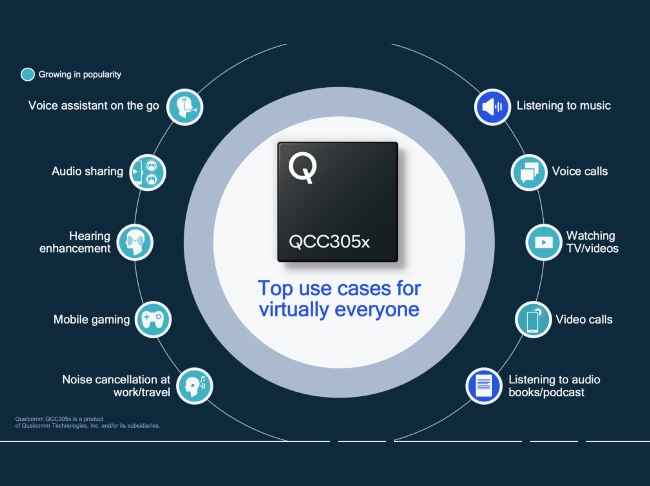 A better calling experience
The chip also supports Qualcomm aptX Voice and cVc echo cancelling and noise-suppressing tech to improve the call quality for different surroundings.
Better sound quality and lower latency
The QCC305x also has aptX Adaptive with support for up to 96Khz audio resolution for better quality and also low latency streaming while watching videos and playing games.
Lastly, support for the new Bluetooth LE framework also allows manufacturers to explore features like native support for hearing aids and audio sharing. Thanks to the new Low Complexity Communication Codec (LC3), the earbuds will also be able to offer high-quality sound with lesser power consumption. It also promises features like multi-stream to connect multiple devices to a single source and listen to the same song simultaneously. There's also location-based sharing that can be used at public spots like airports and malls to share Bluetooth audio with all the visitors at the same time.