Philips India has launched a new range of lifestyle entertainment products in the country, from home theatre systems and portable media players to docking speakers and headphones. All the products in the new range will be available at all leading retail s
Philips India has launched a new range of lifestyle entertainment products in the country, from home theatre systems and portable media players to docking speakers and headphones. All the products in the new range will be available at all leading retail stores across the country starting August, 2012.
Unveiling the new range of products, ADA Ratnam, President, Consumer Lifestyle, Philips India, said, "Innovation backed by deep consumer insights lies at the heart of all Philips products. The new range of products is a reflection of our commitment to delivering authentic and vivid sound experience combined with cutting edge technology and contemporary design to address the ever-evolving entertainment needs of the Indian consumer."
According to Philips, the new range has been specially created for India with the Indian consumers' unique entertainment needs in mind, offering innovations like a customized user interface in the Home Theatre Systems reflecting the local cultural preferences – Cinemaa setting for movies, Sangeet for music and Cricket for sports.
Check out the details of the products, below:
Home Theatre Systems:
The new Philips Home Theatre Systems are designed to disperse powerful sound evenly around the room to bring cinema right into your home. With a customized user interface and better bass and thump to match, this new range promises a truly blockbuster home entertainment experience.
Customized on-screen display: Adjusted User Interface naming to fit cultural differences
Customized sound settings: More Bass for a better movie and sports experience
Customized subwoofers: 23% bigger subwoofer for better thump
HTS2511 and HTS2512: These compact speakers with Dolby Digital surround sound are designed to pump up your home entertainment experience. Their 300W RMS power delivers great sound for your movies and music which can be played from almost any source, be it a DVD, VCD, CD or a USB device.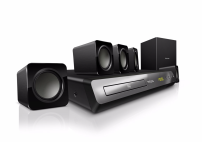 The HTS2511 and HTS2512 are priced at Rs. 9,890.
HTS3533, HTS3532SL and HTS3532BL: These powerful compact speakers are designed to upgrade your home entertainment experience with exposed speakers drivers offering powerful surround sound and DVD video upscaling to 1080p via HDMI for near-HD images. It also comes with an EasyLink feature to control all HDMI CEC devices via a single remote.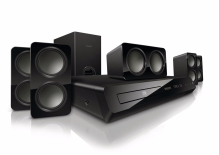 The HTS3533, HTS3532 (SL and BL) are priced at Rs. 12,890 and Rs. 10,890 respectively.
HTS6543 and HTS6553: These classy compact speakers allow you to bring the power of cinema to your home and drive your home entertainment experience even further. Their 3D angled speakers disperse sound evenly around the room for an enhanced sound experience. These can be played using any source - DVD, VCD, CD and USB devices and HDMI for high definition movies – and include an EasyLink feature to control all HDMI CEC devices via a single remote.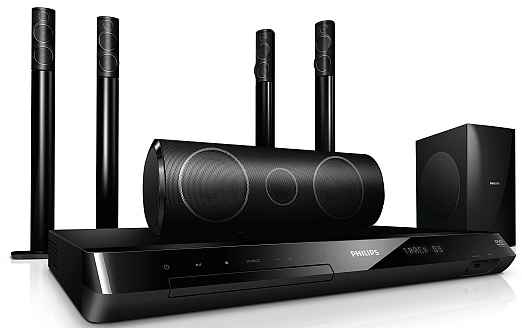 The HTS6543 and HTS6553 are priced at Rs. 20,990 and Rs. 23,990 respectively.
GoGEAR (Portable Media Players):
Philips GoGEAR MP3/MP4 players come bundled with innovative features to ensure a superior on-the-go entertainment experience:
Fullsound: To bring your MP3 music to life
SafeSound: For maximum music enjoyment without hearing damage
Surround for movies: To put you in the middle of the action
Philips Songbird: To discover, play and sync your music
LikeMusic: For playlists of songs that sound great together
GoGEAR SoundDot MP3 Player: SoundDot is a small, colourful and fashion-like accessory. It's a simple device which is comfortable to wear especially for everyday activities like walking, exercising, or even cleaning the house. It comes with a built-in clip for convenient and hands-free use and Fastcharge - a quick 6-minute charge for 60 minutes of play to get you going while on the move.

The GoGEAR SoundDot is priced at Rs. 1,599.
GoGEAR SA060 MP4 Player: SA060 offers the superior sound experience and makes you enjoy all the multimedia you can pack in. With SA060, you get the FLAC & APE lossless codec support for precise sound quality, 3.2" HVGA color display for superb video enjoyment, Touch-screen control for smooth and intuitive navigation, Kinetic scrolling for quick and intuitive library browsing, Text reader to view text files and a 4/8GB internal memory to stuff in all that you need to enhance and share your multimedia experience.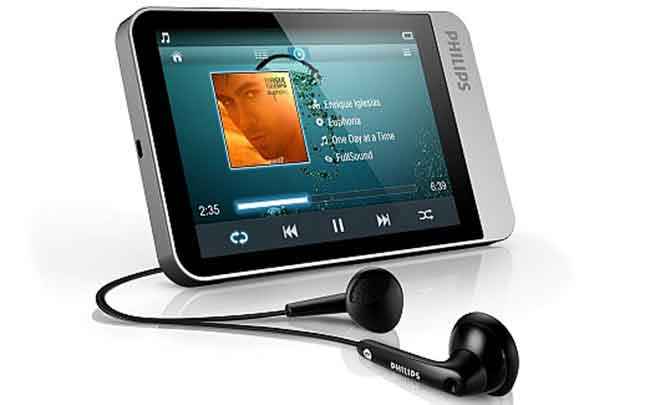 The GoGear SA 060 (4GB) is priced at Rs. 5,999.
Docking Speakers:
Whether you're looking for a sleek wireless speaker packed with features or just a simple way to listen to your iPod or iPhone music out loud, the new range of Philips docking speakers is all you need.
DS9800W: The stylish Philips DS9800W comes equipped with AirPlay which enables you to stream songs directly from iPod Touch, iPhone, iPad and also iTunes. Its SoundSphere technology gives you a chance to experience the natural, deeper and wider sound impression.

The DS9800W is priced at Rs. 65,990.
AS111 – Android Docking: Now you can gear up to get great sound as this speaker plays and charges your Android powered phone and auto-synchronizes its clock with your device. It comes packaged with Songbird so you can sync music between your phone and PC, and a free app for even more functions.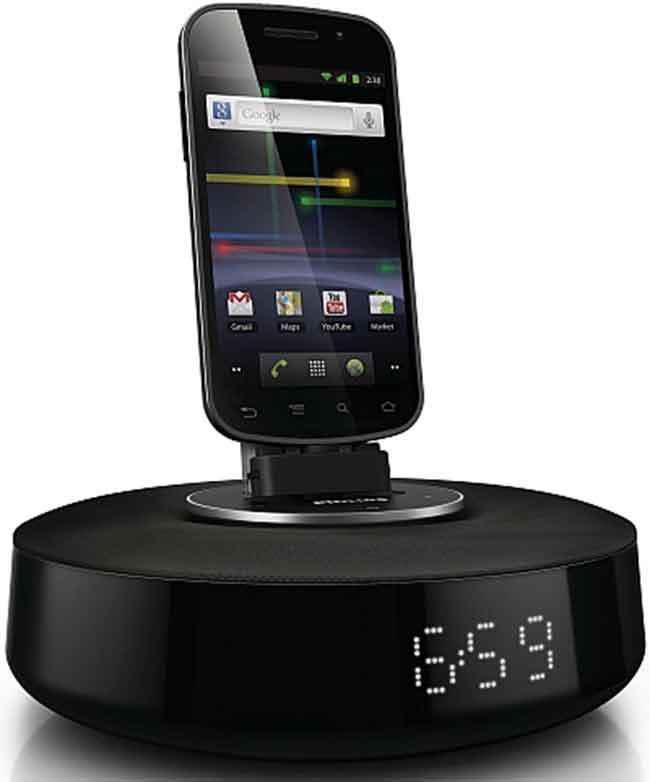 The AS111 is priced at Rs. 5,999.
AJ3270D: This docking station helps you enjoy the pleasure of starting your day right - with favorite music from your iPod/iPhone. This compact clock plays and charges the latest iPod/iPhone models, even with protective cases on. If you prefer, you can even wake up to the radio or a buzzer.

The AJ3270D is priced at Rs. 3,999.
AJ7030D: Be prepared to rise and shine to favorite tunes from your iPod/iPhone or FM with the dashing Philips Clock radio that will brighten up your room - and mornings. Its smart dock lets you charge your devices without the need to remove its protective casing and comes with a dual alarm to wake you and your partner at different times.

The AJ7030D is priced at Rs. 6,490.
DS1150: The compact Philips DS1150 docking speaker delivers full and rich sound and automatically synchronizes with your iPhone/ iPod's clock settings. You can also enjoy an adjustable night light and the convenience of charging a second mobile device.

The DS1150 is priced at Rs. 5,999.
Headphones:
Philips O'Neil: The all new range of Philips O'Neil headphones is the toughest set of headphones in the market, designed to suit different consumer needs.
Bend: Philips O'Neil Bend provides powerful sound with Dynamic 30mm drivers delivering deep and dynamic bass. The flexible headband provides enhanced durability. The cable stress relief prevents breakage, and the tough tangle-free cable with reinforced connectors provides enhanced strength.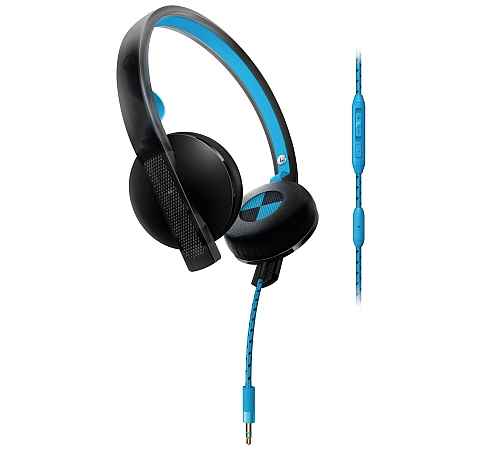 SHO 4200 is priced at Rs. 3,499 & SHO 4205 with mic is priced at Rs. 3,999.
Stretch: Philips O'Neil Stretch comes powered with 40mm drivers, dynamic bass, universal mic, cable stretch relief to prevent breakage and tough- tangle free cable & reinforced connectors. It also offers deluxe noise isolating super soft ear cushions.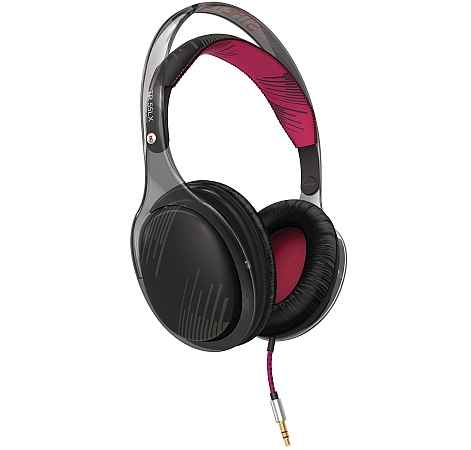 SHO 9560 is priced at Rs. 4,499 and SHO 9565 is priced at Rs. 4,999.