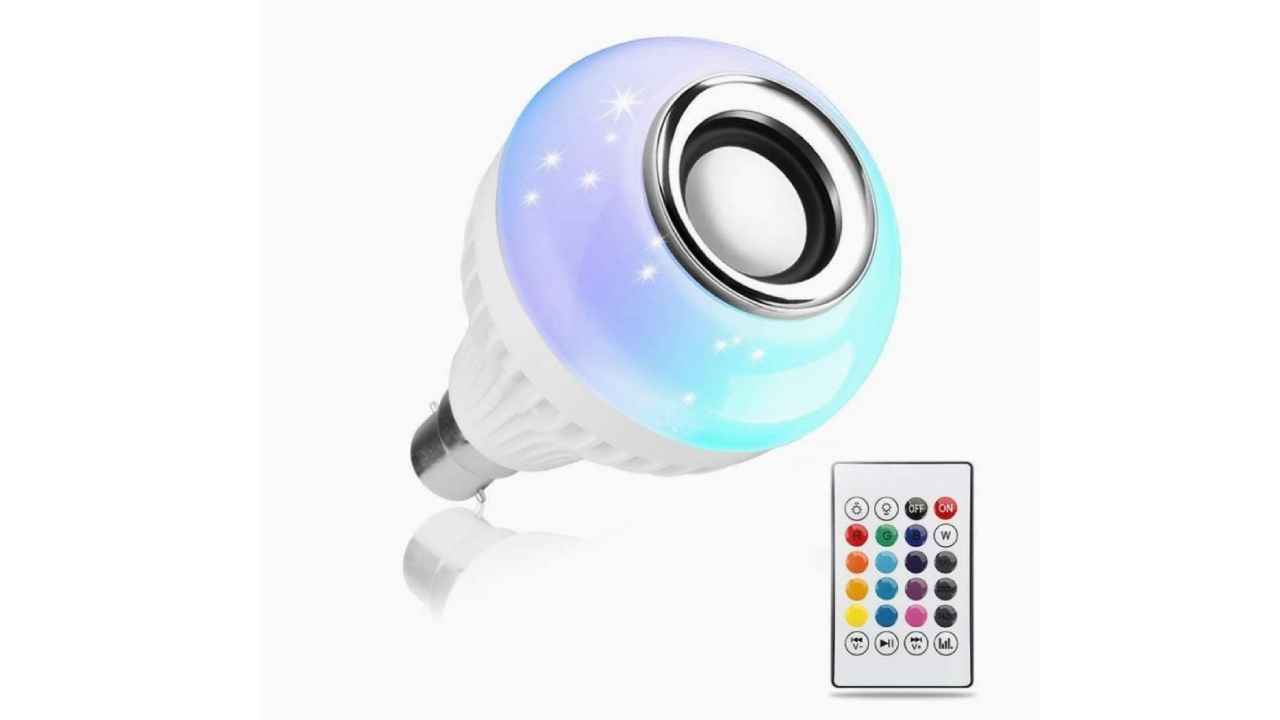 For many, sleeping in a complete darkroom is a sure-shot way to trigger nightmares. Often, people adorn their rooms with nightlights that help soothe the mood and help get a more pleasant sleep. While these lights are quite effective in helping you sleep peacefully, some of them come with Bluetooth speakers. You can use these to add soothing background audio, such as rain in a rainforest or the sound of the waves crashing on the shore. If you use headphones for this purpose, that can have a damaging effect on your ears, which is why you should invest in a night lamp that gets two birds with one stone – acts as a nightlight and your very own personal nightstand Bluetooth speaker.
Portronics iLUMI Portable LED Lamp with Bluetooth Speaker
Here is a Bluetooth speaker cum light combo, ideal for the bedside table. The LED features a total of 5 light colours to pick from – often, warm light is recommended while sleeping. These light colours are blue, red, green, light blue, and purple. The top of the lamp houses the speaker itself, which is surrounded by the LED lights. The speaker can connect to mobile devices using Bluetooth, and then you can play whatever soothing music that helps you sleep. There are 3 settings for the light. The speaker itself isn't all that loud and sports an impressive battery mileage of 5 hours. You get an on/off switch on the base, and at the top, you get a speaker mesh and touch controls.
Kt Enterprise Wireless Bluetooth Light Bulb Speaker Generation II
Want something more akin to a traditional light source with changing colours and a nifty speaker? This wireless Bluetooth light bulb speaker is the gadget for you. It is small and can directly fit into your existing bulb holder or your existing night lamp. It has a speaker built-in, an energy-saving mode, and a handy remote too. Using the remote, you can conveniently set the brightness and colour of the light. You can choose between a static mode, a fade mode, a strobe mode and more. So, no matter how you like your light at night, you're sure to find a setting that will suit your needs. The 3W speaker can further add some relaxing background music to the room.
RYLAN Wireless Night Light LED Touch Lamp Speaker
Here's a nightlight that will add a sense of aesthetic and style to your room even during the day. It has a very modern, cylindrical design that should blend well with most home decors. The light itself is quite big and consists of large LEDs, the brightness of which can be controlled. The default light colour is a warm yellow, which will certainly help you sleep better at night. At the top is the speaker, controls for which are positioned close to the bottom. These controls are easy to access. The speaker has Aux input, can play music from an SD card or directly connect to your phone, laptop or other gadgets using Bluetooth. It also has a microphone that helps with hands-free calling.
PrintMe Customized Bluetooth Speaker
This is a Bluetooth speaker that will say a lot about you and the style you like. It is fully customisable. Users can share the picture that they want to be printed on the lamp, making it a great gift option with a more personal touch. The lamp can glow in several colours, and the 10 watts speaker will further add to the ambience. They are clear sounding speakers that deliver good enough sound that can help you sleep. The speaker measures 8.9 x 8.9 x 12.7 Centimeters in dimensions and weighs 200 grams.