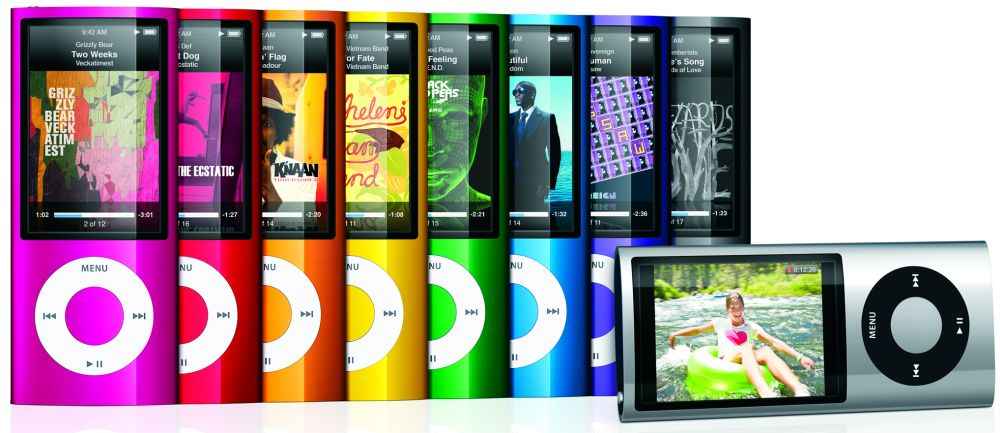 Jobs went on to announce the launch of a new line-up of iPod Nanos that would come with a built-in camera! And they will still be as sleek as before, at just 6.2mm thin. For lots of images, scroll down to the image gallery below.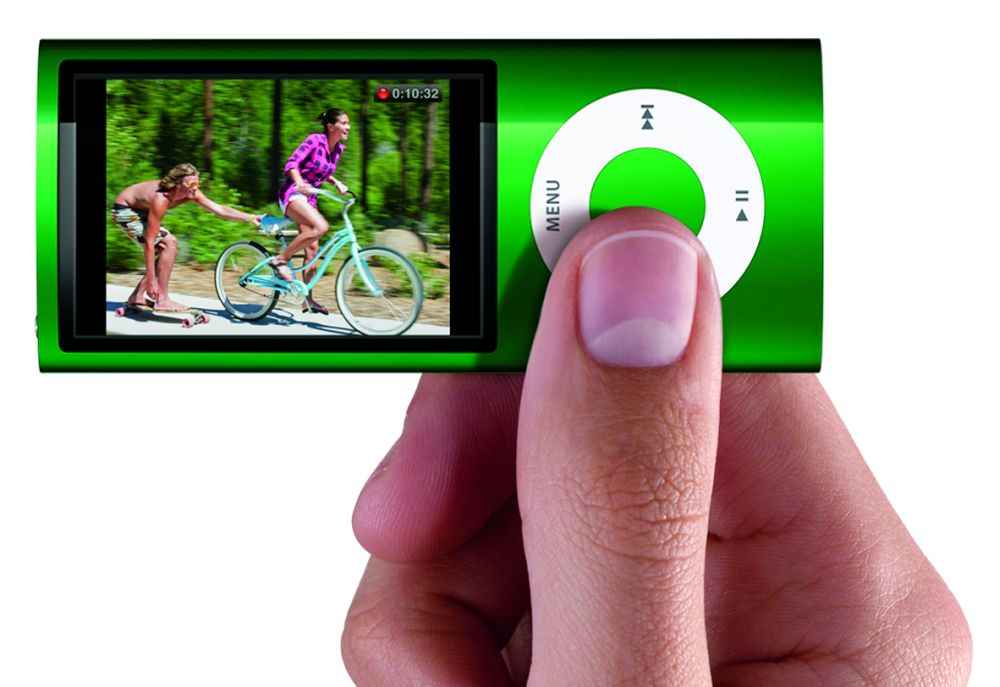 Salient Features
It shoots H.264 VGA video (640x480 pixels) at 30 frames per second with AAC audio.
15 real-time special effects: Sepia, Black and White, X-Ray, Film Grain, Thermal, Security Cam, Cyborg, Bulge, Kaleido, Motion Blur, Mirror, Light Tunnel, Dent, Stretch, and Twirl
Built-in microphone for audio recording, and speaker for quick playback.
Built-in FM radio with live pause and iTunes Tagging. Live pause lets iPod Nano users pause and resume playing their favorite FM radio shows. iTunes Tagging tags a song you like while listening on the radio and opens up the iTunes store to purchase it later.
Pedometer syncs to the Nike software without the previously-required external transmitter to keep track of steps taken and calories burned.
2.2-inch TFT screen (240x376 pixels)
Spoken menus allow listeners to hear many of the names of menus, song titles, and artists without viewing the screen.
3-hour charge time for lithium-ion battery that gives out 24 hours of music playback and 5 hours of video playback
Nine brilliant colors including silver, black, purple, blue, green, orange, yellow, (PRODUCT) RED and pink.
A few question marks
The placement of the new camera in the iPod Nano is a bit perplexing. If you are facing the screen, the camera is on the back, but at the bottom-right of the device. Here's an image from Engadget to illustrate: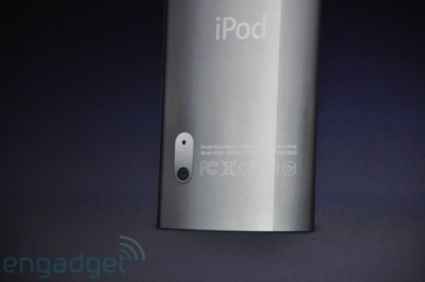 Now, this goes against the very way we hold an iPod in normal usage. For a right-handed user, you grip the iPod at the bottom-right, with your index, middle and ring fingers at the very point where the camera is, while your thumb navigates the Click Wheel.
We understand that the video mode is primarily going to be shot in landscape mode, for which you need to tilt the device 90 degrees and it works perfectly. But this does raise one pertinent question: Will the iPod Nano not support portrait videography at all? And if it does support it, how does one go about it?
This is just conjecture at the moment, so more on this as hands-on reports come up…
Price
Finally, the big question. The new iPod Nano will be available in two capacities:
- 8GB (2,000 songs or 7,000 photos or 8 hours of video at the lowest end) for $149 (Rs 7,250 approx)
- 16GB (4,000 songs or 14,000 photos or 16 hours of video at the lowest end) for $179 (Rs 8,700 approx)