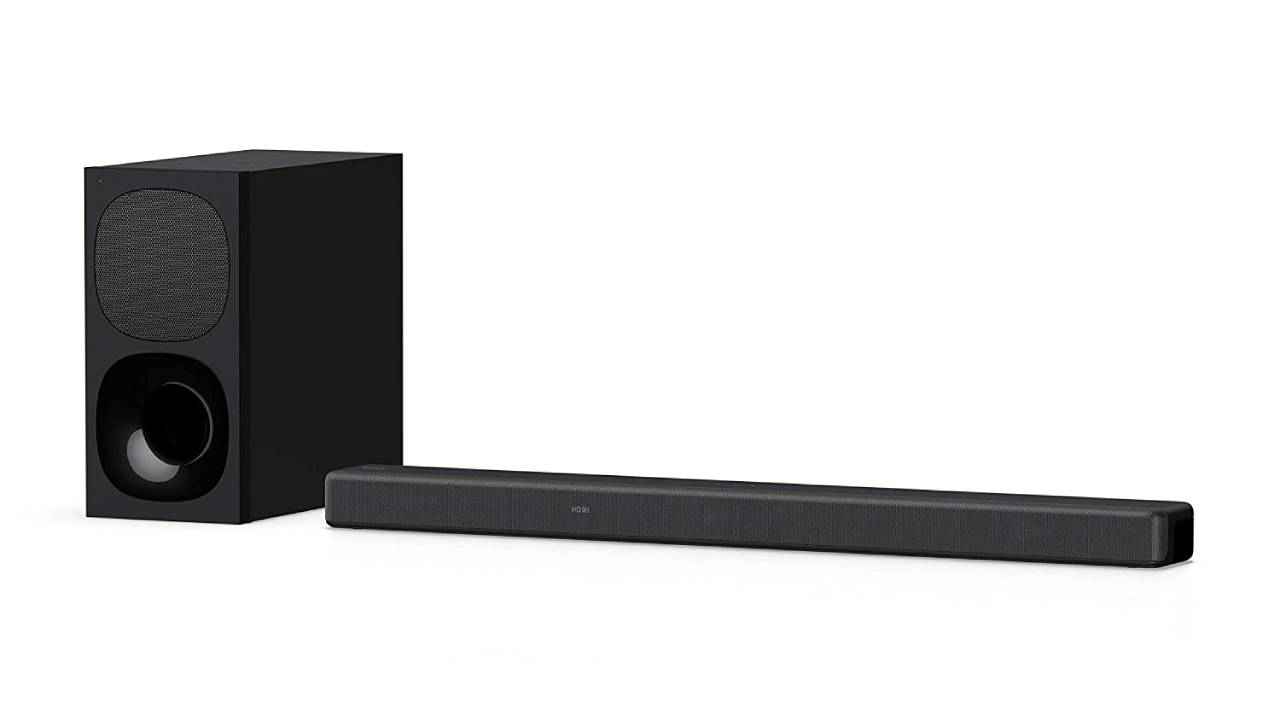 The biggest attraction of soundbars is undoubtedly their sleek design that adds to the aesthetics of your TV. With a soundbar, you do not need multiple speakers spread around your room as it is enough to offer you quality sound. Thanks to Dolby Atmos technology, a soundbar can continue to look like one but behave like a full-fledged home theatre system with surround speakers. Here are a few soundbars with Dolby Atmos that you can consider.
JBL Bar 9.1
This 9.1-ch soundbar, along with a subwoofer, delivers a powerful sound output of 820W, which should fill a big room with clear sounds. It is a good option to consider, especially if you are trying to build a wireless home theatre system. It supports Dolby Atmos and DTS: X and sports four upward-firing speakers to focus on providing a 3D audio output. This soundbar comes with a 10-inch wireless subwoofer, which should add that punchy bass in the output that most people want in a home theatre system. One of the key features of this soundbar is that it has detachable speakers on both sides, which you can place behind your seating arrangement to truly get a surround sound experience. It supports 4K UHD pass-through with Dolby Vision, enabling you to enjoy high-quality content on your TV the right way.
Yamaha YSP-5600 Music Cast Sound Bar with Dolby Atmos and DTS
If you are looking for a soundbar that produces high output, then this soundbar from Yamaha should be an ideal fit for you. The speakers deliver an audio wattage of 128W and this in itself is quite powerful, but you can amp it up to 256W as well, based on your needs. The soundbar supports Dolby Atmos and DTS, which should provide you with some of the best sound experiences possible. It comes with multiple wireless connectivity options like Bluetooth, WiFi, AirPlay and Ethernet. Since the soundbar is quite sleek in its design, you can easily keep it anywhere you want.
Sony HT-ST5000 7.1.2ch Dolby Atmos 4K Wireless Soundbar Home Theatre System
If you are looking for a high-end, feature-rich sound bar that comes with multiple sound outputs, then this particular soundbar from Sony is worth considering. The soundbar comes with 7.1.2-channel Dolby Atmos feature and 800W of sound. The S Force PRO Front Surround technology tries to emulate a natural surround system with its three-dimensional approach to sound expulsion. You can plug in your USB or connect a device via Bluetooth to enjoy your music with great sound quality. With the built-in Chromecast, you can easily stream music from your android smartphone.
Sony HT-G700
Here is a soundbar from Sony that has a wireless subwoofer, which should help in an easy setup. This 3.1-ch system supports Dolby Atmos and DTS: X to deliver a cinematic sound output. The centre speaker used in the soundbar delivers a robust audio output with clear dialogues, and the two side speakers focus on providing a balanced overall sound output. The engine used in the soundbar delivers a vertical sound output, thus covering a larger area at a single time. Thanks to this, the sound waves reflect from the walls to reach your ears from all directions, as per company claims. You can connect your TV or other smart devices to it wirelessly, using Bluetooth. The aesthetic quality of the soundbar should enable you to blend it with your home décor seamlessly.