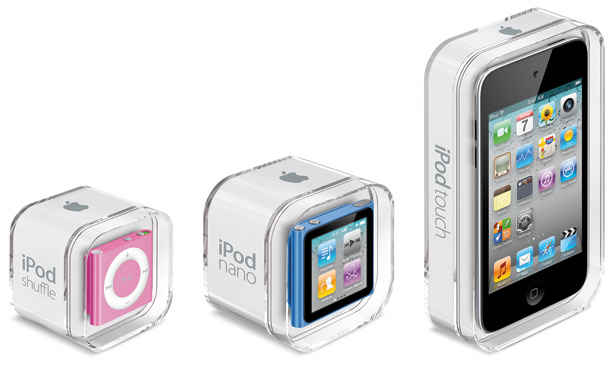 Steve Jobs introduced the new iPod touch, iPod nano, and iPod shuffle in yesterday's Apple press conference, each packed with "incredible new features" that are a result of Apple's "most advanced technology". Many of the iPod touch's new features were predicted before, pieced together from very informative leaks...
iPod touch

Retina display – 960x640 pixels
FaceTime video calling (front facing camera)
HD video recording (back facing camera)
A4 chip
3-axis gyro
iOS 4.1
Game Center
Thinnest and lightest iPod touch ever
40 hours of music playback and 7 hours of video playback on a single battery charges
Suggested prices:

8GB model - $229
32GB model - $299
64GB model - $399

iPod nano

New multi-touch interface that
Half the size and weight of the previous generation
Aluminum and glass body
Built-in clip
Genius Mixes (iTunes style playlists)
Built-in FM radio with live pause
24 hours of music playback on a single battery charge
Shake to Shuffle
Built-in pedometer (also supports Nike iPod)
Colours: silver, graphite, blue, green, orange and pink
Suggested price:

8GB model - $149
16GB model - $179

iPod shuffle

Clickable Ring buttons
VoiceOver navigation technology
All-aluminum enclosure body
Built-in clip
Colours: silver, blue, green, orange and pink
15 hours of music playback on a single battery charge (50 percent more battery life than previous generation)
Genius Mixes (iTunes style playlists)
Suggested price:

iTunes 10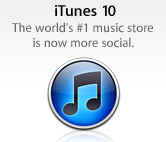 Amongst new iPods, the Apple TV, and a new version of iOS (iOS 4.1), Apple also launched iTunes 10. The new feature in Apple TV allowing one to start playback on one Apple device and resume it on another will be supported in this version, as well as in the updated iOS devices.
The biggest new feature in iTunes 10 would have to be Ping, a new social network. The new social networking service, oriented around music will let people follow artists and get updates as they post their thoughts, opinions and pictures, and release music.
iTunes 10 will also feature HDTV show rentals which form a big part of the new Apple TV. Rented television show episodes will be available up to 30 days after purchase, and will expire 48 hours after you start watching it.