Undertaken by Trade Bazaar India, the new line of speakers and headphones are stated to be waterproof, sand-proof, ice proof and shockproof
Altec Lansing, the 88-year-old audio equipment makers, has reintroduced itself in India. Following a five-year hiatus, Altec Lansing's latest lineup of products claim to be "everything proof", i.e., with capabilities to withstand levels of water, shock, ice and sand. While no bulldozers, snowy mountains and sandy beaches were available for testing, submerging the Lifejacket series of wireless speakers in a tumbler of water proved the claim on a preliminary level, and the company seems confident to provide what it claims. Additionally, Altec Lansing is also providing a one-year warranty to support its features, in efforts to regain its status at the top of the audio pile.
Altec Lansing's focus, with its new line of products, is based around durability of products to connect with its target audience group aged between 18 and 35, along with quality of service and after-sales assistance and also future plans to Make in India. While Make in India plans are not for fruition at the instant, the base for the venture is firmly chalked out. Shonit Dalmia, Partner, Trade Bazaar India, confirmed that Make in India plans for Altec Lansing will materialise about 18 months into the future, after Altec consolidates its position in the market. Target investment range is at around Rs. 100 crores, and places for manufacturing and assembly infrastructure setup are Maharashtra and Gujarat.
Talking about the increasing reach of audio equipment among online buyers, Adarsh K. Menon, Vice-President of Electronics at Flipkart gave an interesting statistic of the audio sector growing at rates of 100% every year. In its previous stint, Altec Lansing was renowned for quality home and computer audio equipment, and while the present lineup of products do not include home audio, Altec has a portfolio of products ready, which will be launched in Q1 2016, possibly by January. Its Home Audio range will include the Cube Bluetooth speaker, Master TV sound bar unit, and the Legend tower speaker. All of these units will have wireless connectivity, and in an exclusive interview with us, Manav Tandon, Partner, Trade Bazaar India stated that the home audio lineup will have the ability to connect up to seven speaker units to an audio source, to provide its users with a wirelessly connected home audio ecosystem. Additionally, he also stated Altec's plans to expand beyond home and personal audio, speaking of rugged phone accessories like cases, which will be introduced later next year.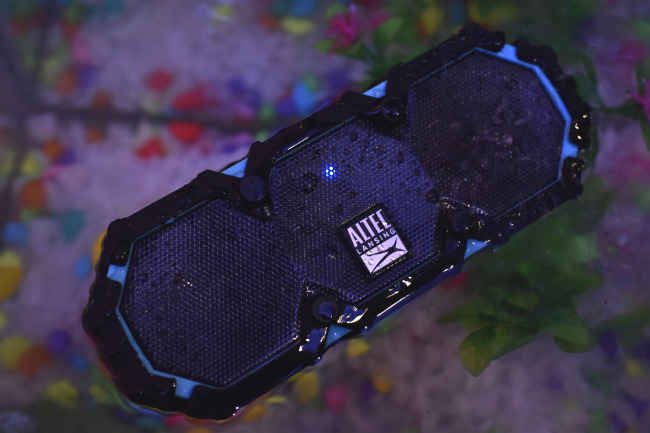 The Mini Lifejacket 2, floating on water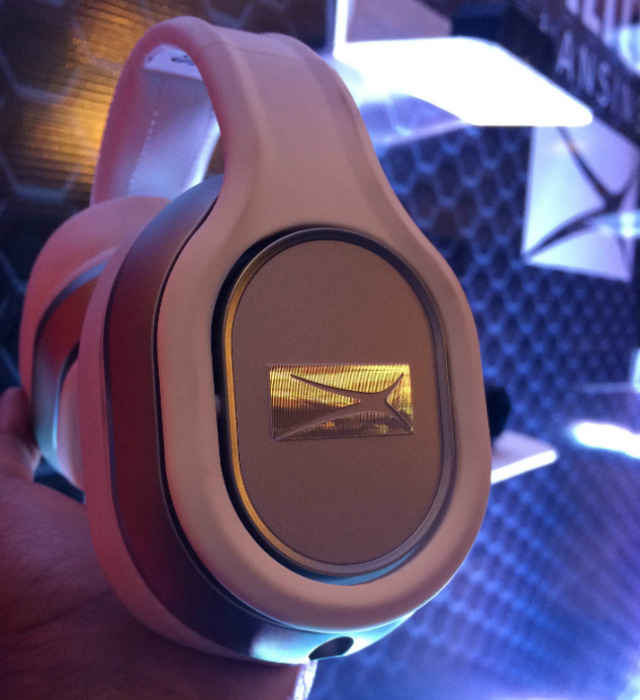 The Evolution headphones
Among products launched today were two categories of audio equipment – speakers and headphones. Among the speakers are the Mini H2O, priced at Rs. 3,600, the Mini Lifejacket 2 at Rs. 8,000, Lifejacket 2 at Rs. 14,000, and the Boomjacket 2 at Rs. 18,000. Each of these speakers exhibit Altec's "everything proof" capability. Altec's line of headphones includes the Evolution series at Rs. 3,350, the Kickback series at Rs. 4,999, and the Shadow Bluetooth headphones at Rs. 7,999. On a first-hand demonstration, we submerged the Mini Lifejacket 2 under water, and it kept playing. There is a steady loss of audio volume if you continuously try listening to your tracks under water, and after about five minutes, you will ideally need to take the speakers out of water to let it dry. On first impression, the audio quality, although clear, appears to lack a strong bass line, and is somewhat titled towards treble.
With companies like JBL, Sennheiser and Bose holding fort in the audio segments, it will be interesting to see how Altec Lansing aims to recapture its users in India. Watch this space for an exclusive interview with Shonit Dalmia and Manav Tandon, Heads of Trade Bazaar India, on Altec Lansing's USP and future, and a full review of the Altec Lansing Mini Lifejacket 2.