YouTube gives users a host of resolutions for consuming content all the way from the lower 240p up to 4K i.e., 2160p. However, choosing from so many options may be a daunting task for some and leaving it on Auto may pick a resolution lower to your liking. In order to address such concerns and also to simplify the resolution selection, it looks like YouTube has implemented new options. You can choose what quality the video plays back on YouTube and you can choose different options for mobile network and Wi-Fi
New video playback quality settings on YouTube
Clicking on the three dots when playing a video on your smartphone, then clicking on the quality button used to throw up a number of resolution options. Now all you get are four options: Auto, Higher Picture Quality, Data Saver and Advanced.
Auto: This setting "Adjusts to give you the best experience for your condition". While on this setting, most videos for me stuck to the 480 resolution even though the device in question is an iPhone XR. The same on the 2020 iPad Air (review) would keep the resolution at 720p as well for me.
The next option is the Higher Picture Quality mode which uses more data. The iPhone XR here set the resolution to 720p for me even though higher options are available and that kind of made sense since the XR display has an 828 x 1792 pixel resolution. But you can manually go into advanced and change the resolution to a higher one if you like. Know that this will consume more data.
On the iPad Air 2020, the High Picture Quality resolution was set to 1440p which also makes sense since the device has a resolution of 1640 x 2360 pixels.
Next up is the Data Saver Mode which as the name suggests lowers the quality. On the iPhone, it dropped the quality to 240p.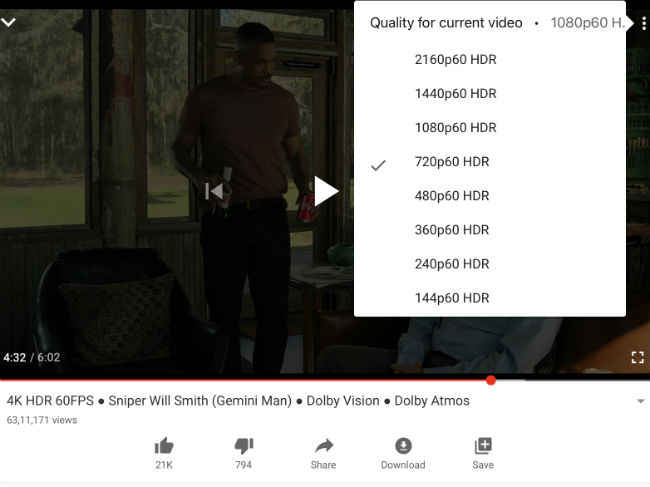 The last option is Advanced which brings up all the resolutions the video is available in and you can manually choose what resolution to play the content in. This is the exact same as what we had before the new update.
Another thing to note is that when you change any of the video quality settings while watching a video, it affects the settings of that video only. To make a universal change, you need to open the YouTube app. Click on the icon in the top right corner that represents your account, then click on Settings, and make the universal change in the Video Quality Preferences tab. Note that this tab has a (BETA) written signifying that it isn't available to all. So, if you don't see it here on your device, then the feature hasn't rolled out to you.
While it's nice to see YouTube simplify the video quality settings, those that know exactly the resolution they want need to click a few more times on screen to get to the detailed resolution menu and this can get a little annoying. However, since this feature is in beta, we think it may see some changes before the final rollout.