OnePlus TV 32Y1 - Smarter TV
Android TV with superior craftsmanship and elegant design - Buy Now
Click here to know more
Advertisements
Highlights:
YouTube Music and YouTube Premium streaming services launched in India.
The new services will go up against rival audio and video streaming platforms.
YouTube Music Premium will be available free for three months for Indian users.

YouTube has finally launched Youtube Music and YouTube Premium services in India. YouTube Music is accompanied by YouTube Music Premium, which will enable users to get access to premium features of the music streaming apps. These new streaming service announced by YouTube are geared up to go up against the newly announced audio streaming platform Spotify, along with some older, more established music streaming services like Gaana, JioSaavn, Apple Music, Amazon Music and others. YouTube Premium will also face-off against other video streaming platforms like Amazon, which offers Prime Videos subscription along with access to Prime Music. So, let's take a look at all the new YouTube services have to offer.
YouTube Music and YouTube Music Premium
YouTube Music is not actually a new service as it was originally announced in 2015 and expanded to other countries back in June last year. Its app is available for both Android and iOS platforms and there's also a web version available on browsers. YouTube Music encompasses official songs by artists, albums, personalised playlists, artist radio, along with YouTube's rather large catalogue of covers and music that is pulled from Google Play Music and videos, remixes, and live performances from YouTube. There are also many other nifty features in YouTube Music and Music Premium such as Smart Search, for those who remember only a few lyrics or words in a song. It's biggest strength though is music recommendations and its large library. All this will be available for free, but with some restrictions.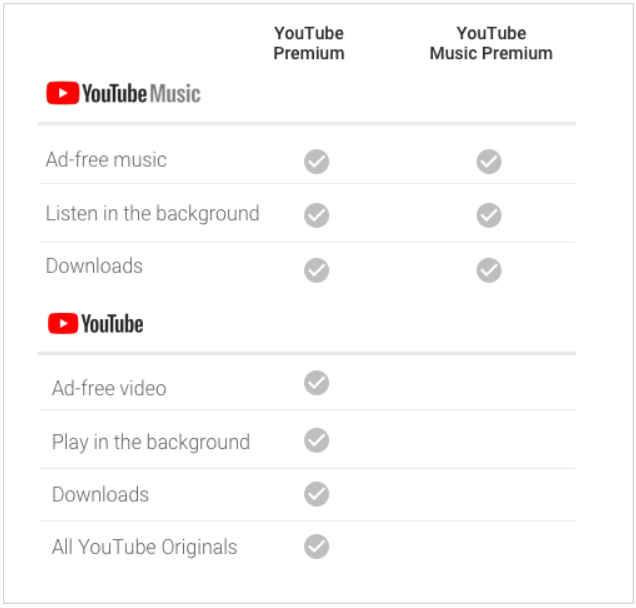 There's also a paid membership of the service called YouTube Music Premium, which will enable additional features for users. These premium options include getting rid of ads, playing songs and videos in the background, when switching between apps and multitasking or when you lock the device, and downloading music offline. As a launch offer, YouTube Music Premium will be available free for three months, followed by a price of Rs 99 a month.
Those who are already subscribed to Google Play Music will automatically get access to YouTube Music Premium membership and their libraries on Google Play Music will remain unaffected.
YouTube Premium
YouTube Red was rebranded as YouTube Premium and it will now be available in India for Rs 129 per month. Those who subscribe to the service will not be seeing ads on YouTube, and also get access to background play and offline downloads for YouTube videos, along with access to all YouTube Originals.
Related Reads:
YouTube Music In India: Ten steps to mastering the new music streaming app from Google