YouTube Music is now official in India. The service gives you access to ad-free songs and music videos, with the ability to download them offline. Here are ten things you need to know about YouTube Music in India and how it stacks up against other premium
YouTube Music is here! After three long years of its existence and on the heels of Spotify's India debut, YouTube's dedicated, ad-free music streaming has finally made it to country's shores. The YouTube Music app is available on Android and iOS and yes, you can finally play YouTube in the background on your phones.
YouTube is already the largest music streaming service in the world with a whopping 1.5 Billion monthly users, many of whom play at least one song a day as per the company. Combine that huge library of original music, covers, live performance, meditation tracks, study music and a whole lot more, and add the ability to stream as well as download all this music in an app driven by a strong recommendations engine, and you've got YouTube Music on your hands. It's basically the best of YouTube and Google Play music in one package. YouTube Music in India is priced at Rs 99/month after a free 3-month trial period. Digit.in got early access to the new streaming app and we decided to give it a spin over the weekend.
Starting on YouTube Music is fairly simple. The app and its web version build upon YouTube's familiar interface led by the Search bar right on top. Before you start streaming music, YouTube Music asks you to pick your favourite artists and the process is similar to how it works on Spotify. Tap an artist you like and more recommendations open up for similar music genres. You are also prompted to choose from various languages, which will form the basis of your music recommendations. In India, YouTube Music can recommend songs in English, Hindi, Punjabi, Marathi, Tamil, Telugu, Gujarati, Bengali, Kannada, Bhojpuri, and Malayalam. After choosing your favourite languages and artists, you are greeted with the home screen of the app with tailored and personalised music mixes which range from New Music to blends of old and fresh songs you're likely to listen to. You can also see the songs you've liked on YouTube in a separate playlist called 'Liked Songs'.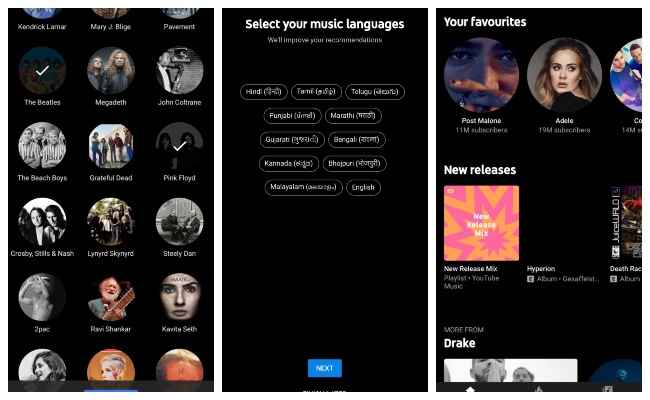 Scroll down front the playlists and you can pick music playlists based on your favourite artists, check out their latest albums and music videos, watch a selection of recommended music videos, find playlists suited for different moods and activities, and discover newer artists similar to the one you like.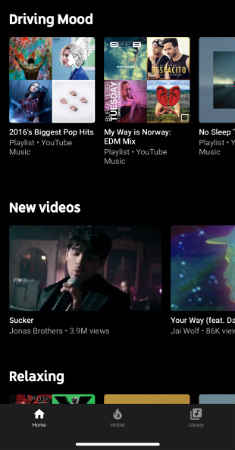 There are three on-screen buttons at the bottom of the app - Home, Hotlist and Library. The Home button lets you navigate back to the home screen from wherever you are in the app. The Hotlist button lets you discover new and trending videos in one click. The library tab is where you can access your downloads, playlists, albums, like songs and artist selections, along with a list of last played music and videos you played on the app or on its web version. These buttons remain at the bottom of the app for quick access to all three tabs at all times, except for when users access the player. You can swipe down on the player to come back to the app screen or swipe up to see the rest of the songs in the playlist.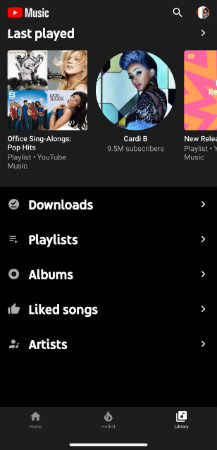 Now that you've got the lay of the land, let's talk about what you can do with YouTube Music and how you can best optimise it to suit your streaming needs.
To start off, YouTube Music lets you easily switch between audio and video, and this works seamlessly. At any point in the song, you can choose to switch from the song to its official video or vice-versa. Depending on what you have switched to, the song or the video will play from the same point it was switched at. The Song and Video switching tabs can be seen right on top when the player opens up after tapping on a track.
Don't want to play music videos at all? Possibly because you only want to stream audio at the moment and save some data? You can change this in the settings of the app. To access your account and settings, tap on the circle on the top right corner of the screen. To switch off video streaming altogether, head to Settings>>>Playback and restrictions>>>and turn on the 'Don't play music videos' toggle. This switches music videos to audio only or to album versions on the song.
YouTube Music lets you create an Offline Mixtape. An Offline Mixtape is an automatic selection of 100 songs that YouTube thinks you like. These songs are automatically downloaded and will appear in your downloads list. You can switch off or control the number of songs that are automatically downloaded in your Offline Mixtape to as low as 1 song. Head to Settings>>>Downloads>>>and find the 'Download an offline mixtape' toggle.
YouTube Music also lets you control the audio and video quality of your streams. You can set Audio Quality to High, Normal, Low or Always High for when you are streaming on mobile network or Wi-Fi. The highest bitrate one gets with the "High" quality setting is 256kbps AAC, which could be a bummer for audiophiles. You can also opt to stream or download only on Wi-Fi and choose separate audio and video quality settings for both streaming and downloading. All these settings are available in the 'Playback & restrictions' settings for streaming and 'Downloads and storage' settings for downloads.
To change video quality for a particular song while playing it, tap the three dots in the player and select from resolutions ranging from 144p to 1080p.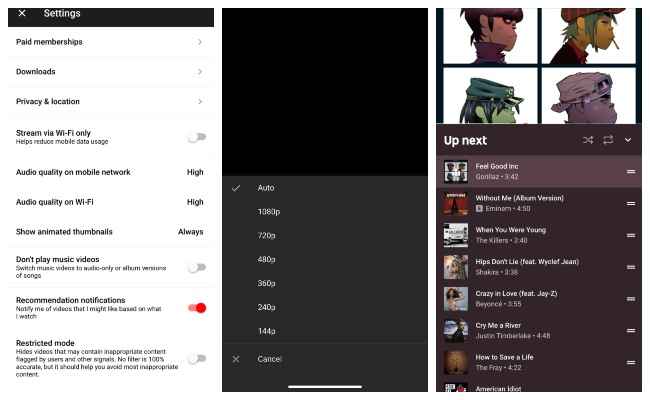 As we told you before, swiping up from the player opens up all the songs in the playlist that are 'Up Next'. If you want to listen to them in a particular order, you can long press the = button and just move tracks up and down in the playlist. You can also swipe left on the = button to remove a song from the playlist.
Sometimes YouTube Music will give you suggestions based on your location and activity. You probably don't want that when you are travelling to a different city. To avoid the same, you can pause location and activity based recommendations by heading to Settings>>>Privacy & Location.
In YouTube Music, you will find New Release Mix, Your Mixtape and Discover Mix right on top in your home screen. For your information, the New Release Mix is updated every Friday, while the Your Mixtape section is updated daily and the Discover Mix is updated every Wednesday.
You can access a web version of YouTube Music on Music.youtube.com if you have signed in using the same Gmail account you used while signing up for the service. YouTube Music on the web can also support regional languages like Hindi, Punjabi, Gujarati, Bangla and more.
YouTube Music Vs Google Play Music Vs Spotify Vs Apple Music Vs JioSaavn Vs Amazon Music Vs Gaana+
The music libraries of all the above-mentioned streaming services differ vastly. From the face of it, YouTube Music, Apple Music and Amazon Music by far have the largest libraries in India, followed by Google Play Music, JioSaavn and Gaana. If you are someone who listens to American Rock Band Tool, you can only find the music on YouTube Music thanks to YouTube's collection of Tool videos. While we will bring you a detailed comparison of all music streaming services soon, here's how their monthly pricing differs.