Facebook has announced that it is expanding the beta test of Messenger ads globally, after initial testing in Australia and Thailand
It seems like we may start seeing advertisements on Facebook Messenger soon. The social media giant has announced that it's expanding the beta test of Messenger ads globally after initially testing it in Australia and Thailand. The company says that over 1.2 billion people use Messenger every month, which gives marketers the chance to expand the reach of their campaigns. "People will see Messenger ads in the home tab of their Messenger mobile app. When they tap on an ad, they will be sent to the destination chosen during ad creation. This can be your website or a Messenger conversation," the company states in its page. Advertisers will be able to add Messenger to campaigns using the traffic and conversion objectives, with additional options like App Installs objective coming soon.
Back in January, it was reported that Facebook was testing a new mid-roll ad format. This would give video publishers the chance to insert advertisements into their videos after 20 seconds of playback. It was reported that these ads would only appear in videos that run for at least 90 seconds. It was also said that Facebook would sell these advertisements and share the revenue with publishers by giving them 55 percent of all sales.
Facebook also uses WhatsApp to influence the ads people see on Facebook. However, WhatsApp claims that it doesn't share users' contact data with its parent company, but rather codes. On its end, Facebook is able to to help merchants understand how people interacted with the advertisement, without them knowing any details about the users.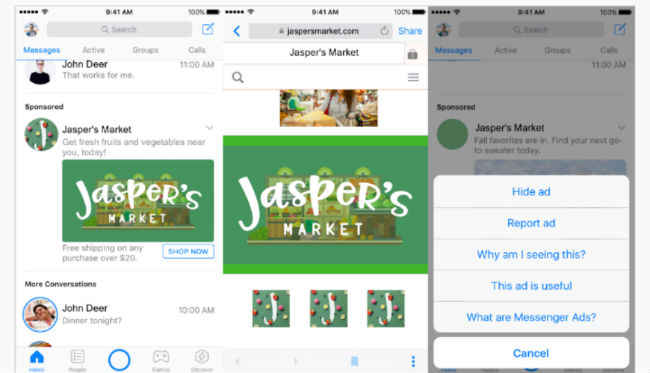 Image Courtesy: TechCrunch
Ads on Facebook messenger are definitely going to hamper the user experience of the service. While we habven't seen ads on Messenger in India yet, TechCrunch notes that they take up a lot of space on the screen, nearly covering two thirds of the app's UI. The only respite is that Facebook is not yet snooping into your Messenger conversations to throw relevant ads at you. Even then, one really doesn't head to Messenger in hopes of coming across an ad to buy iPhone covers or clothes. The intention to open Messenger is always to speak to a contact, not to see giant banner ads while scrolling through conversations.