Highlights:
The ShareSave app will enable one to buy devices from China.
The new app utilises social e-commerce as its core model.
Xiaomi says it will provide full local support, after-sales services and doorstep delivery.
Xiaomi has announced a cross-border e-commerce platform called ShareSave in India. The new e-commerce platform will enable users to buy products that are not yet available in the country by ordering them from the Chinese mainland. The company says that ShareSave uses social e-commerce as its core model. The platform features three types of purchase modes called Pair-up, Drop and Kickstart. Under Pair-up, users can save more money when buying products with a friend to get an exclusive discount for both buyers. Under the 'Drop' section, one will have to join a drop group to get devices with up to 100 percent price cuts. However, they will need to get enough people to join the group to avail the offer. There is also a Kickstart tab on the app where one can contribute $0.2 (Rs 15 approx) and back products for receiving "up to 10 times the reward."
The ShareSave e-commerce platform can be accessed via an app of the same name, which is available for download from the Google Play Store. "Xiaomi strongly believes in the power of communities and Mi Fans, and the social aspect of ShareSave is a perfect reflection of this. ShareSave allows for a place where Mi Fans connect, enjoy and share a unique #SharetoSave shopping experience. It also serves as a testing ground for key markets, allowing Xiaomi to learn more about the local demand for various types of product," states Xiaomi in a blog post.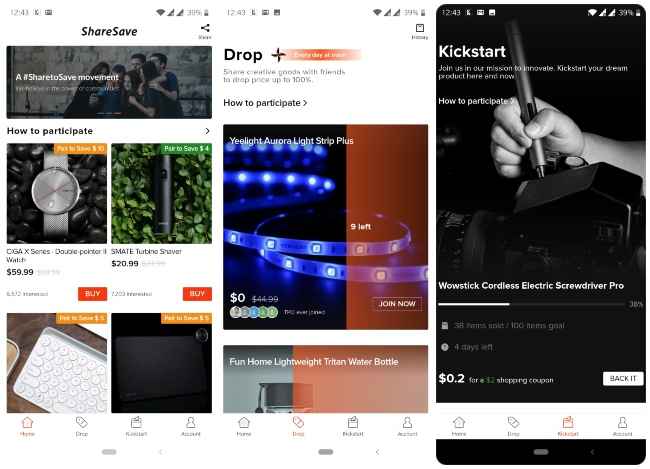 The new e-commerce platform by the company seems to be another way of checking user's interest in products that are not yet available in India. We checked out the app and found that it hosts products by various companies, along with devices by Xiaomi backed companies like Yeelight, Yuemi and others. Xiaomi says that those who buy these products will get "full local support, such as after-sales services and delivery right to their doorstep at honest prices." The devices listed on the app range from smart hardware, mobile peripherals, to lifestyle products.
Related Reads:
Mi Mix 3 First Impressions: Look ma, no notch