WhatsApp has been under scrutiny since five people were lynched in Maharashtra recently due to a fake news message that circulated on the online messaging app. The company's latest step in mitigating the issue of fake news on its platform is to mention clearly that the messages have been forwarded by marking them with a 'Forwarded' label, so that one can ascertain whether the sender themselves has written the message or forwarded it from someone else. The feature is a welcome addition and to some degree, it can help people in identifying whether a piece of information received via WhatsApp is fake or not. However, there is a simple method, which someone with nefarious motives can use for making sure that forwarded messages don't display the 'Forwarded' label.
If one copies a message and sends it to another person or in a group, the Forwarded label is not shown. This is a loophole that a person with malicious intent can exploit by creating a group and copy-pasting and sending fake news and messages in it. One can also create a broadcast list and send messages to their contacts using the same method, as the forwarded label is also not shown here. WhatsApp should definitely patch this loophole where one can simply forward a copy-pasted message and get rid of the Forwarded label.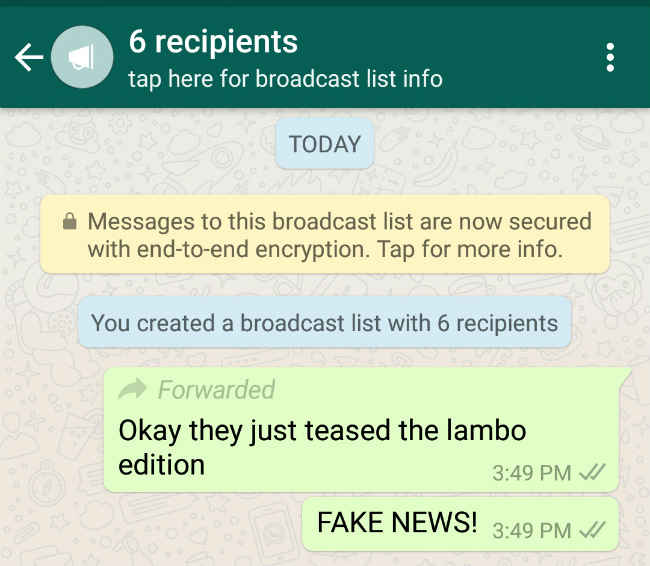 We forwarded the first message on a broadcast list and the second message is a copy-pasted forwarded message
The company also published ads in Indian newspapers recently, to inform people about how to identify fake news. WhatsApp has also sought help from local experts for restricting the spread of misinformation. The company also announced unrestricted research rewards of up to $50,000 for proposals from social scientists and research groups that propose projects to "enrich" the company's understanding of the fake news problem. It has also taken some other steps to curb the spread of fake news on its platform. With the 'Restrict Group' feature for Android and iOS, group administrators can restrict other members from editing the group description, icon and subject. There is also news that the online messaging platform is testing a Suspicious Link Detection feature in its latest Beta version that will help users detect sent and received suspicious links in WhatsApp. You can learn more on WhatsApp's fake news issue here.