A new feature is coming on WhatsApp called the Read Later feature that will replace the Archive Chat feature. As the name suggests the new feature will shift the selected chats to the Read Later tab and reduce interruptions and keep them unread for reading it later.
WABetaInfo was the first to spot this feature in the works in the beta version 2.21.2.2 of WhatsApp. The new feature is in the developmental pipeline and will roll out to beta users in the near future. The iOS beta version v2.20.130.16 had mentions of this feature. According to WABetaInfo, the new feature will sit at the same position as the Archive Chats option replacing it completely.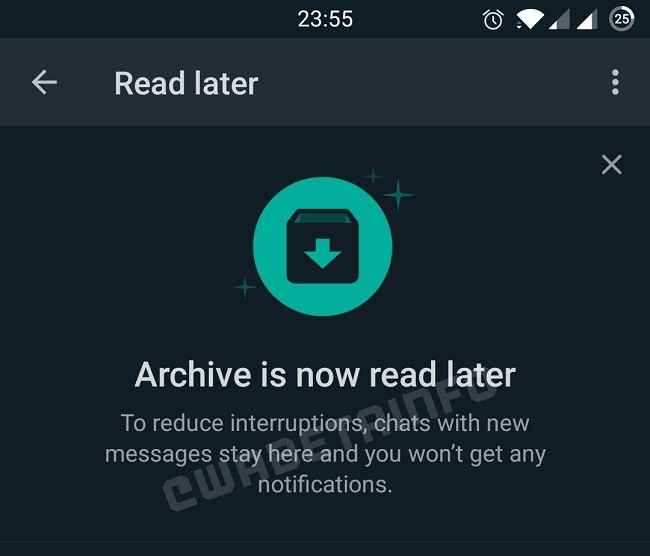 Tapping on the button the user will see a banner notification explaining the new feature "To reduce interruptions, chats with new messages stay here, and you won't get any notifications." The current archive now hides the chat or group in the archive section so that it is not visible on top, but whenever a new message arrives, the archived chat automatically shows up at the top of the screen.
The new feature will eliminate the notifications and reduce interruptions, once enabled for a chat or group the conversation will remain in the Read Later section and won't be notified of any new messages as all the conversations will be muted in this section.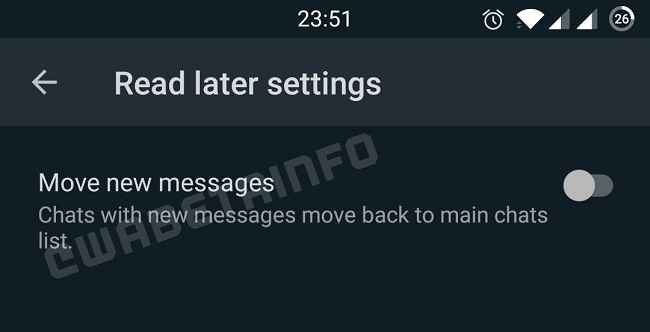 Users can turn off this feature with just a single toggle switch and all the chats will move into the chats section immediately. However, there is no word on when the feature will be available to all the users let alone the beta version users.