WhatsApp users may soon be able to transfer funds to other users in-app, while chatting with them. According to a report by the Daily Factor, the Facebook owned online messaging platform is in the final phase of testing its payments feature called WhatsApp Pay and the company's employees are currently testing it out.
"They are likely to do some sort of an extended beta program for the feature in November and by December you can expect a full rollout," an anonymous source told Daily Factor. WhatsApp has roped in three banks, State Bank of India, ICICI and HDFC banks to initially launch the feature with.
The feature is said to be intuitive and simple and similar to sending an image, location or a video, users will be able to transfer funds without leaving the chat interface. As per the report's source, a window with the Rupee symbol will be added to the attachments window, alongside the location and contact options. User can then either send or request money by tapping the window.
To send money, a user could simply enter the desired amount to be paid and then enter a PIN before sending. The receiver would get a notification, which looks similar to a shared contact and it will display an accept or reject option. The report has also posted an artist's impression of the WhatsApp Pay feature.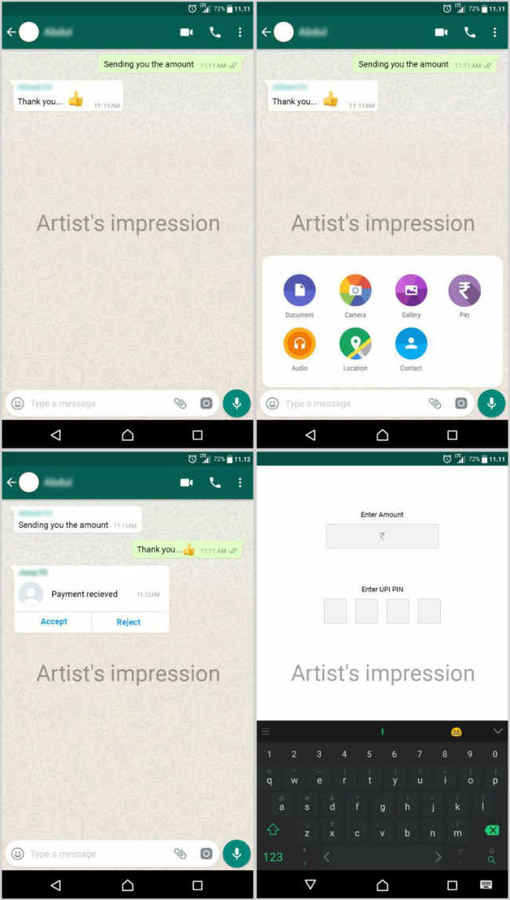 Image Credits: Daily Factor
A previous report had hinted that the social messaging service is in talks with the State Bank of India (SBI), the National Payments Corporation of India (NPCI) and some other institutions to launch a peer-to-peer payments system in India. Similar to the current report, the feature was previously reported to be powered by the Indian government's Unified Payments Interface (UPI).
WhatsApp has the largest user base in India with over 200 million users. By integrating the payment option in tandem with UPI, users wouldn't be tempted to exit the app to transfer funds. Apart from convenience while paying, there are increased chances that a user will not turn to other apps such as Paytm and PhonePe. A Twitter user claims to have seen the new payments feature in action and said that existing payments platforms have a reason to worry.
WhatsApp recently announced its "WhatsApp for Business" service in India. It verifies a business and facilitates easier communication between businesses and their customers. It's not known if the WhatsApp Pay feature will be integrated with WhatsApp for Business.
Hike was the first messaging app in India to launch its peer-to-peer (P2P) payments based on UPI and a native wallet service back in June this year. The payment service was included in the version 5.0 of the app. WeChat has implemented a similar payment system in China. The chat service has over 930 million users in the country. It went on to capture 40 percent of the payments market soon after it launched WeChat Pay. It came in second after Alibaba's Alipay.