Twitter has been dabbling with the idea of introducing a subscription model and a "tipping" option to have more meaningful revenue streams for its platform. This has been one area in which it has been lagging behind its competitors. Now, the company has confirmed that it is indeed working on some new products to fill this gap.
Super Follows
During Twitter's virtual Analyst Day, the company announced that it is bringing a new feature called 'Super Follows'. This is essentially a paid subscription model that charges members for exclusive content from accounts they follow.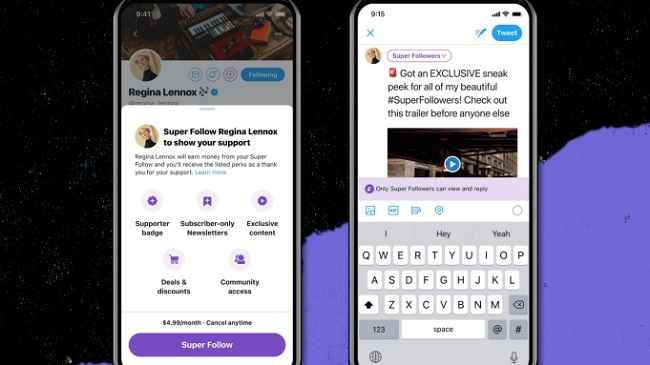 With this feature, for instance, a user can pay a set amount of money to receive perks like exclusive tweets, subscribers-only newsletters, and more. Twitter gave an example of how an influencer can compile a bunch of tweets that would only be pushed out to their Super Followers.
It's a very good way to make for both veterans Twitter users with huge following and influence, as well as for Twitter. We can totally see this feature being used extensively by influencers to, say, give a sneak-peak to their followers of upcoming products. Twitter will most likely tie-up its other features like the new Twitter Spaces, etc. to this new model and allow people to make money off their content.
Communities
In addition to the 'Super Follows', Twitter also announced 'Communities', which is similar to Facebook Groups. With Communities, Twitter will allow its users to follow and engage with a particular topic more easily. If you want to be a part of a particular conversation like cats, social justice, etc. then this new feature will prove to be very useful.
This feature will also easily tie into Super Follows and allow users to be a part of an exclusive influencer community.
Twitter hasn't given us an exact timeline for the release of these new features just yet. But given how prompt they are with pushing out the new features like voice DMs to their users, we expect these new products to arrive sooner rather than later.
For more technology news, product reviews, sci-tech features and updates, keep reading Digit.in or head to our Google News page.