Twitter has introduced voice messages feature for users in India, Brazil and Japan
Twitter has introduced voice messages feature for users in India, Brazil and Japan. The new feature lets users send a voice DM (Direct Message) to their Twitter contact and the company has been testing it for a while now. Back in June 2020, the micro-blogging platform released voice tweets that enabled users to record voice clips and post them as tweets. Twitter has started rolling out the voice messages feature to its users in India, Brazil and Japan from February 17 and more users will receive it in the coming days. Twitter users can now record a 140 seconds audio clip and send it as a DM to their followers. The feature is available for both Android and iOS devices.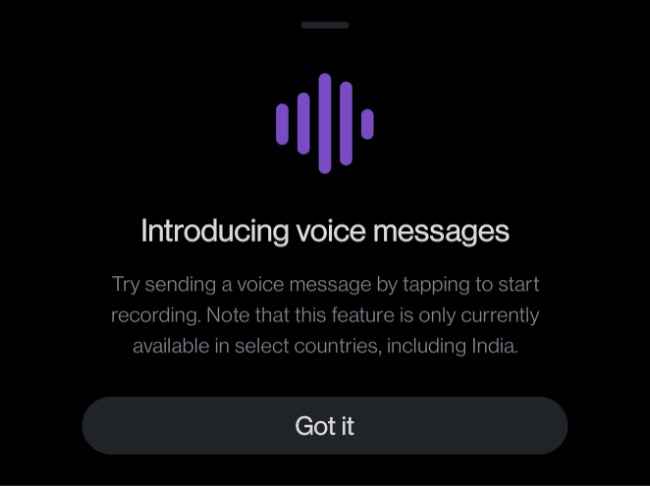 Twitter users received a pop-up message notifying them of the new feature that adds a new audio recording button that users can simply tap to record their message.
"India is a priority market for Twitter and that is why we're constantly testing new features and learning from people's experience on the service here. We're excited to bring the voice messages in DMs experiment to the country and give people a new way to express themselves and help them connect through the nuances, emotion, and empathy built by hearing someone's voice," Managing Director of Twitter India Manish Maheshwari said.
How to send voice DM on Twitter?
Sending a voice message as a DM to your Twitter follower is very easy. The company has introduced the new feature to let users record their message in their own voice and send it to their followers. This is not an entirely new feature as WhatsApp and Telegram have had it for ages now with people using audio clips to chat with friends and family.
To send a voice DM, open Twitter and go to the inbox. Here, tap on the purple waveform pattern at the bottom-right corner and you will be able to record an audio message. After recording the message, you can preview it or just send it normally.
Do note, however, that you can only record an audio clip for 140 seconds after which it stops automatically.