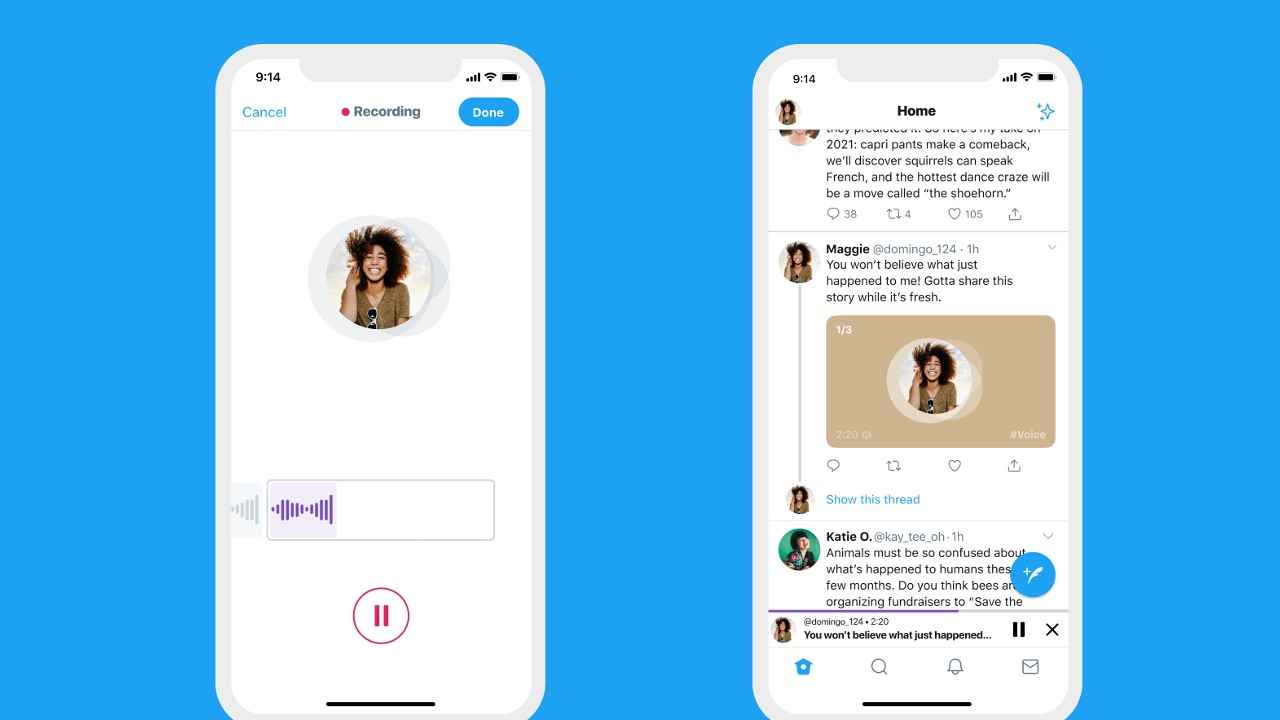 HIGHLIGHTS
Twitter is testing the Voice Tweets feature for iOS devices.

Voice Tweeting will be available for everyone in the coming weeks.

Currently being tested with limited users.
Twitter has introduced Voice Tweets in a bid to "add a more human touch" to the way users interact with the popular micro-blogging social media platform. This will essentially let users tweet audio messages instead of penning down their thoughts with written tweets. Twitter recently launched its own story feature for smartphones in India called Fleets.
Voice tweeting is similar to how you compose a tweet and there aren't any extra steps you need to take to record an audio message on Twitter. There is a new recording button that's been added to the tweet composer with a wavelength-style icon that you can tap to record tweets in your voice.
Twitter will allow users to record voice messages up to 140 seconds and will automatically group longer messages into threads. When someone taps on your audio tweet, it will play all the voice clips in succession in case of multiple tweets grouped under threads,
"There's a lot that can be left unsaid or uninterpreted using text, so we hope voice Tweeting will create a more human experience for listeners and storytellers alike," the company said in a blog post. "We hope voice Tweeting gives you the ability to share your perspectives quickly and easily with your voice. We can't wait to see how people will use this to make their voices heard and add to the public conversation," the company added.
There are multiple use cases of voice tweeting, from sharing breaking news or first-hand account of any event to sharing stories on the platform, Voice Tweets will come in handy for a wide variety of users.
How to use Voice Tweets on Twitter?
Voice Tweets is currently being tested for iOS devices amongst a limited group of users but Twitter assures that in it will be rolled out to everyone in the coming weeks. The audio messages recorded on Twitter are displayed along with the user's current profile picture and one can also minimize the audio message to keep listening to it while also browsing through their timeline.
Using Voice Tweets is fairly easy and if you're using Twitter for iOS, here's how you can record your tweet.
Tap on tweet composer and tap on the voice icon, the one with the wavelength symbol.

Tap on the record button and you can start recording your audio message.
A user can record voice tweets up to a duration of 2 minutes and 20 seconds for a single audio message and if the duration is longer, you can add multiple audio tweets going up to 25 tweets.
The feature is available for iOS phones for now and there's no official word when it will be available for Android users.
In other Twitter news, the Indian government has launched a dedicated Twitter handle for Coronavirus updates and news. You can read more about that story here.