Twitter has announced group messaging and mobile video camera features for Android and iOS users. The micro blogging site will now allow users to shoot and post 30 second videos as well as send direct messages to groups of up to 20 people.
Twitter has also introduced new mobile video tools that allow users to capture, share and edit videos up to 30 seconds long, with instant playback. The videos will show as thumbnails in the users timeline, but won't auto play like Facebook's news feed. The feature will help improve user engagement as well as generate advertising revenue for the site through promoted videos. Right now the feature is available only for iOS users and will be rolled out to Android soon.
"The camera is really optimized for instant, quick sharing," said Twitter's product director, Jinen Kamdar. "We're taking sure to make sure the design is really simple."
Twitter had earlier launched direct messaging to individual people, now with the new messaging to groups users will be able to send direct messages to a group of upto 20 people without leaving the site. The feature allow users to host group discussions, and anyone in the group can invite anyone who follows that person back. Twitter says this will result in users having more conversations on the platform.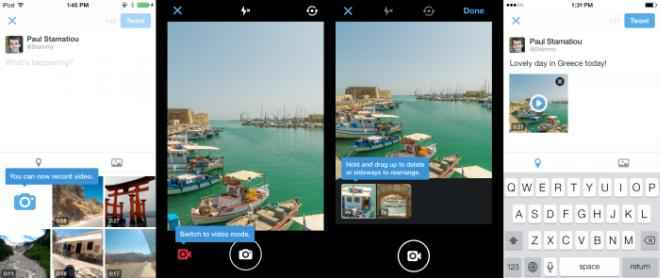 Twitter's product director, Jinen Kamdar stated in a blog post, "People often take public tweets and use them as a conversation starter. Now you can use them as a conversation starter with more than one person." Kamdar says that while Twitter's been investing in the public side of Twitter, this shows how the company is investing in the "private side." "We've stepped up our pace of execution," Kamdar said. "We're really picking up the pace getting these things out the door."
Read: Twitter rolls out 'while you were away' feature
Source: Twitter