Just two days after it was back on Google Play and App Store in India, TikTok is on its way to become one of the most downloaded smartphone apps, in the country again. According to a report by mobile data and analytics company App Annie, when the app was restored after week-long removal from app stores on April 30, it was the 90th most downloaded app on the Google Play Store in India and the 13th among the category of "social" apps. On May 1, it had become the 15th most downloaded application in India, and the 4th most among social apps.
As per the latest data by the same source, TikTok climbed three spots and has become the top free app on Google Play Store. Further, the app now holds the second spot in "Social" apps, and fourth spot in "overall" apps on the platform. The rising numbers are indicative of the popularity of the Bytedance-owned Chinese short-form video app.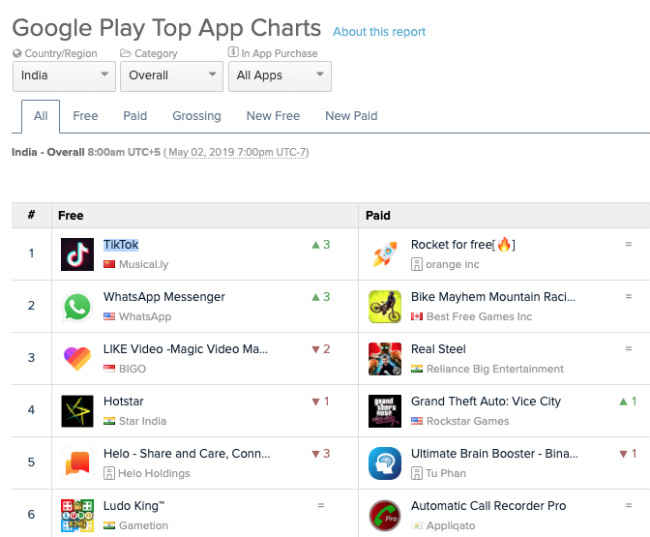 However, the sharp surge in downloads may also be attributed to the promotional activity that the company is running. It is offering 3 users a chance to win Rs 1 lakh each everyday between May 1 and May 16. All they have to do is download the app. This is seen as the company's way to earn the revenue it lost during the ban. Reuters reported that the ban caused Bytedance a loss of $500,000 (approx Rs 3.48 crore) per day.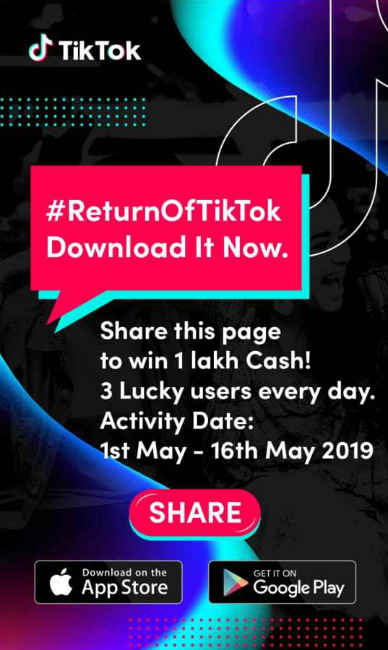 Sensor Tower says that based on historical performance and its projections, TikTok missed out on more than 15 million first-time users in India across both stores during the period the ban was in effect, or about three times as many as the app added in all of April 2018. "Before the ban, TikTok was tracking to surpass 33 million new users there in April, which would have surmounted December 2018 as its best month yet in the market," it said.
For those unaware, app was banned by the Madras High Court in India, due to alleged obscene content and child abuse on the platform. However, the app-makers promised to implement stricter policies regarding content on the platform, and the ban was subsequently lifted on April 25. The company has now launched its second in-app Safety Quiz, which features questions around setting up a strong account password, not sharing your account information with anyone, and being aware of phishing, suspicious emails or websites.