Want to modernise your banking loan application?
Build an application that analyses credit risk with #IBMCloud Pak for Data on #RedHat #OpenShift
Click here to know more
Advertisements
TikTok has made headlines this week for a slew of reasons and here's a roundup of all of them. First off, the app has again reached a milestone in terms of download numbers. As per a SensorTower report, TikTok has crossed 1.5 billion downloads on the App Store and Google Play Store. The news comes just nine months after TikTok crossed 1 billion downloads this year. In addition, there's also some new development about a new music streaming app that TikTok's parent company, ByteDance, is reportedly working on. Finally, TikTok has also commenced testing new ways to enable users to sell stuff on the platform by enabling them to inserṭ links in their posts and bio.
Starting off with the download numbers, TikTok has clocked 1.5 billion downloads on the App Store and Google Play Store. As per the SensorTower report, TikTok was the fourth most downloaded non-gaming app in the world last year and it is currently holding the third spot in the list of the most downloaded non-gaming app this year. Currently, it lags behind WhatsApp, which has 707.4 million installs and Messenger, which clocks in at the number two spot with 636.2 million downloads. Users in India have apparently helped boost the install numbers for TikTok since 664.8 million or about 31 percent of all unique installs are said to be from users based out of India.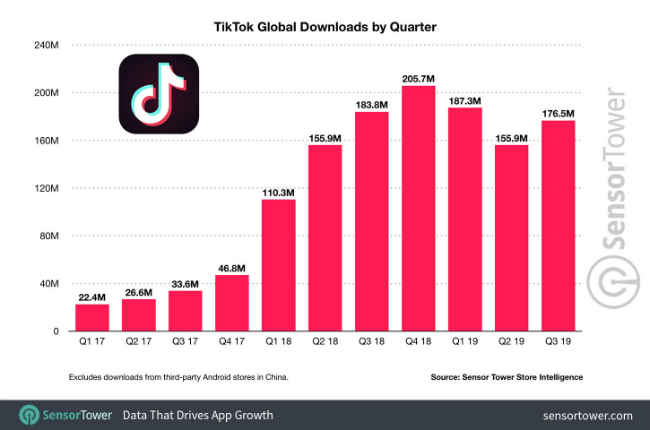 Moving on, ByteDance, the Chinese company that created TikTok was previously reported of working on a new music streaming app. It is reportedly gearing up to foray into the music streaming industry and take on the likes of Apple Music, Spotify and others. As per a new Financial Times report, ByteDance is in talks with Universal Music, Sony Music and Warner Music to bag global licensing deals so that it can include produced music in its app. This new app might launch by next month and it could debut first in India, Indonesia and Brazil before expanding to other regions.
TikTok also seems to be taking big steps to enable revenue generation through its platform. A Twitter user posted a video showcasing a new link in bio and social commerce URL embedding in the app. This is reported to be a limited test that the app developers are conducting and if successful, there's a possibility that it will be rolled out for more users. The option comes not too late after Instagram enabled creators to sell products on the platform via posts and stories.