Telegram has announced Voice Chats 2.0 as it expands the audio-only feature to channels in a bid to take on Clubhouse and Twitter Spaces. Telegram first introduced voice chats for groups as part of an update back in December 2020. The same feature is now being extended to channels as well, meaning that users can now host live voice chat sessions like the increasingly popular invite-only Clubhouse app.
Telegram's Voice Chat 2.0 will let channels and groups host voice chats without any limit on the participants. Admins of channels and groups can now host live voice chats, allowing even public figures to join such chats. Apart from this, the new update also brings in raise hand mechanics, voice chat titles, voice chat recordings and more.
Telegram Voice Chat 2.0 features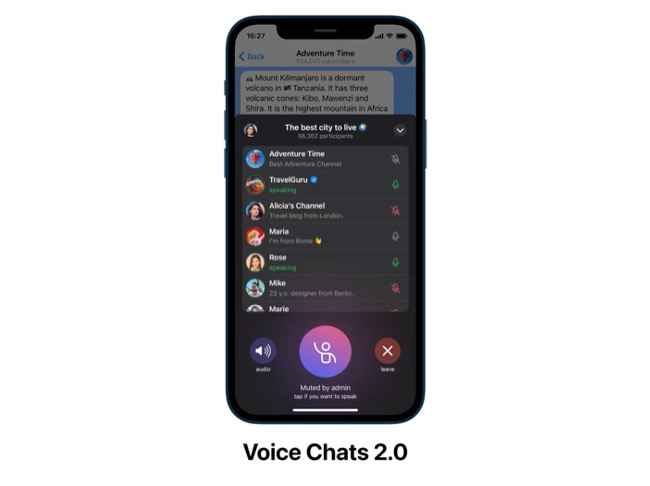 The new update brings voice chats to channels and public groups that users can start by going to any group or channel they are an admin. Once in the group or channel, tap the three-dot icon to bring up options and tap Start Voice Chat to begin the live chat.
The administrators of such channels and groups can also record audio from voice chats. "While some conversations are meant to be temporary, others are worth preserving and passing on. Admins can now record audio from voice chats to save talks and publish them for followers who missed the live event," Telegram says in a blog post.
During an ongoing voice chat, listeners can raise their hand if they want to engage in the conversation. Moreover, the participants in the channel or group voice chat will be able to see the user's bio.
Additionally, admins can also create invite links both for speakers and listeners in order to reduce the hassle of managing chats. The voice chats can also be given a title if it is a topical channel or group.
Celebrities and public figures can also join a voice chat as their channel without having to worry about their personal account. "For example, the Presidents of Brazil and Turkey could meet for a talk in Pavel Durov's Channel and answer questions from users without the risk of having their chat lists flooded with fan mail," the company adds.
The new update also brings in the option of cancelling forwarding and resuming voice message playback from where it was left off previously. Furthermore, Android users can now choose between different actions to the swipe-left gesture.