Till now, the ability to auto-upload images from your phone to the SkyDrive cloud storage was solely reserved for Windows Phone users. However, Microsoft has just updated the iOS version of the SkyDrive app, which adds a bunch of new features including image uploads and also a slightly redesigned UI for iOS 7 devices.
iOS users can now set the SkyDrive app to automatically upload pictures taken with the device's camera, or stored on the internal storage. Putting it at par with services like Dropbox, SkyDrive will allow users to tweak the upload behavior, set for wither Wi-Fi only or also using the 3G networks. Additionally, users can select whether to upload full size images, or the down-sampled ones. Microsoft confirms that images once uploaded, can be safely deleted from the iOS device, to save on space.
In the midst of all these features, the SkyDrive app for iOS 7 has received a UI update as well, bringing it closer to the overall OS theme.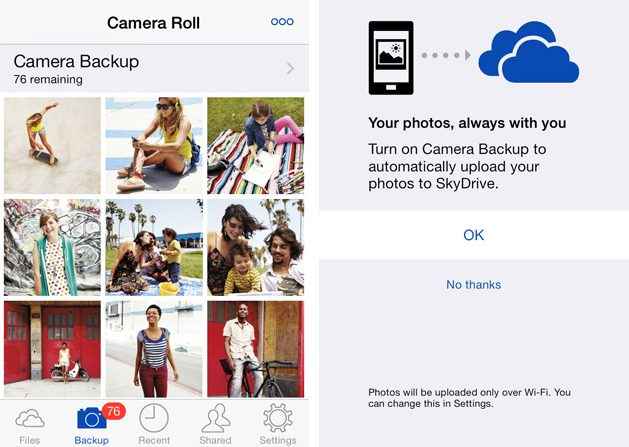 Along with the app updates, Microsoft also announced the new Facebook integration capabilities on SkyDrive.com. SkyDrive users can now add multiple photos to an existing Facebook album or even create a new album at the time of sending to Facebook. In the case of the latter, users will have the complete control over the album name and, most importantly, also set the privacy permissions for the folder from directly within SkyDrive.
The latest version of the SkyDrive app can now be downloaded from the Apple App Store, both for the iPhone and the iPad.