Pinterest has announced a partnership with Getty images, which holds digital rights to more than 80 million still images, illustrations and over 50,000 hours of stock film footage. Pinterest will pay Getty a fee in exchange for metadata. The financial details about the deal were not disclosed, however the companies stated that the Metadata will start getting added in the coming months.
According to the deal, Pinterest will draw on Getty's massive amount of image data to do reverse image searches on the millions of photos pinned on Pinterest. The company will be able to use this meta data to provide more detail to its users about what details about the pictures, including photographers names and what's in the picture. The deal will help ensure image owners get credited and provide the sort of key words that could help the company connect users to the right advertisers,
Getty says that it will be providing two pieces of technology for this service. The company will be using PicScout image-recognition technology — which will crawl Pinterest to identify Getty Images. Then it will link those images with Getty's metadata using its Connect API. "We'll get a photo credit for our images on Pinterest's site and a link back. Pinterest users get more context and have more fun," Getty noted today.
"As part of our agreement, we'll pay Getty Images a fee for the data they share and will help make sure that their images get proper attribution," Pinterest notes today. "We're just getting started with Getty Images but we're excited about the possibilities of what their data can help us deliver."
Pinterest has recently got a funding of $225 million and has a valuation of $3.8 billion.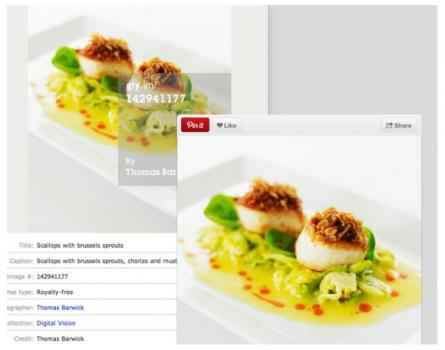 Source: Techcrunch