Ministry of External Affairs' smartphone app, launched yesterday, has topped the Apple App Store already, making it the most sought after free iOS app in India.
India's Ministry of External Affairs (MEA) recently launched a new smartphone app for Android and iOS users called the MEAIndia app. The app, launched by Foreign Secretary Ranjan Mathai on Monday, is already a big hit in India and has topped the free category chart on Apple's iTunes App Store.
The application provides users with assistance in passport/visa applications and acts as a single window source for all information related to the Ministry's citizen-centric services and outreach activities. The app has received an average user rating of 4.5/5 on the Google Play store and 5/5 on the Apple iTunes App Store.
MEA has become the first department in the Indian government to launch its own mobile application. The MEAIndia app offers a wide range of passport related services like locating the nearest passport office, tracking passport application and downloading forms. The users can know about Haj services, flight and accommodation details. Users can also pose questions directly to the external minister and know interesting facts about the Prime Minister and External Affairs Minister.
The ministry added in a press release, "You plan to travel abroad for work or study and need to legalize your documents? 'MEAIndia' simplifies the steps involved for you and helps you identify the authorized agencies for attestation/apostle of your documents."
MEA will also be adding new features in the coming months like applications for passport renewals or new passports. The app is available for download free from the Apple iTunes App store and the Google Play store.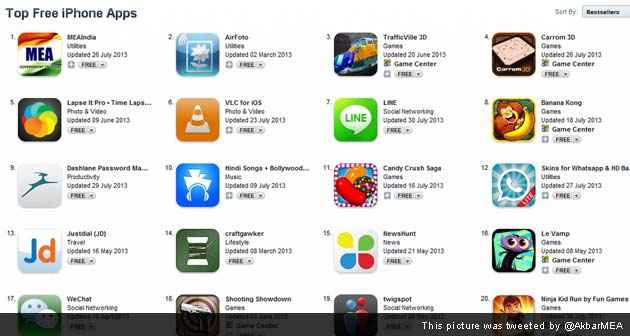 Source: TOI