Want to modernise your banking loan application?
Build an application that analyses credit risk with #IBMCloud Pak for Data on #RedHat #OpenShift
Click here to know more
Advertisements
At today's Google For India event, the company made a slew of announcements regarding many of its products. Google Maps app and its Go version are also getting some new features that will help users find addresses and get to their destinations quicker. Voice navigation on Google Maps is currently supported only in English when seeking directions using the public transit option but the company will soon enable it in Hindi as well. Voice navigation will work in Hindi when using bus navigation. The feature will be helpful for those who use a bus as their preferred mode of transportation and with the feature, they will also receive alerts when reaching their destination and information of their stops along the way. This is nice and helpful especially for those that are new to a city and use public transit as their main way to get around.
Google also announced that it's the 10th anniversary of Google Maps in India and that with over 50 million buildings added to Maps, India is the fastest growing country in Google Maps. For making public transportation easier, the company has tied up with Red Bus to show buses and routes on Maps. All the aforementioned changes will be rolled out for Google Maps in two weeks. Coming to Google Go, the lightweight version of Google Maps is getting turn-by-turn navigation support, along with a redesigned home screen with shortcuts for public transportation like Bus, metro and trains. These new features are now available for the Maps Go app users.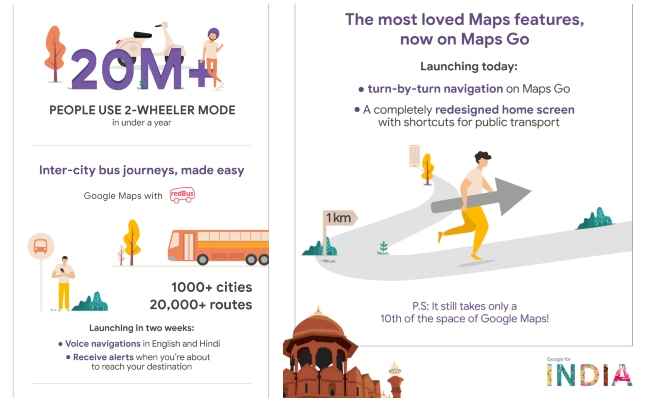 Google Maps was recently updated with Plus Codes, which is an easier way to share addresses. Google has also partnered with an NGO called Addressing the Unaddressed to provide a formal address to underserved urban communities in the form of Plus Codes. Google says that with this initiative, over 100,000 residences across 25000 households in Kolkata now have a formal house address. The company is aiming to provide addresses to 1 million households in Kolkata over the next year, along with Plus Codes for emergency services, delivery operations and others.
Google also showed its approach to how maps are made for India. It uses Machine Learning to recognise information from satellite images and these changes are then reflected in Google Maps. As per the company, over 20 million people are making use of the two-wheeler navigation feature, which was launched in India last year. Google also says that it covers 2 billion rides and deliveries in India. OLA cab services uses Google Maps to match customers with drivers and Swiggy uses data from Maps to surface recommendations for restaurants nearby and it makes use of real-time traffic data for accurate ETAs.