Instagram could soon allow its users to add music tracks as Stories. Going by the code found on the Android version of the social media app, TechCrunch says that the recently announced third-party app integration allowing users to post "music stickers" directly from Spotify will also soon be available on the app. It is reported that Instagram is also testing its own music recognition feature to automatically detect music one is listening to and display the song title and artist as a visual label. This new feature means that users will be able to overlay music on top of their videos, which results in something similar to what the app Musically does.
A user named Jane Manchun Wong was reportedly able to use the feature, which looks like it's in a nascent development phase. However, the user states that the app crashed whenever they tried to post anything using the music stickers. The app is also said to automatically detect the music being played on the smartphone and create a sticker for it as well. However, TechCrunch notes that the app is not using Shazam for identifying the music and the music stickers are part of the licensing deal Facebook has struck with Universal, Sony, Warner and European labels.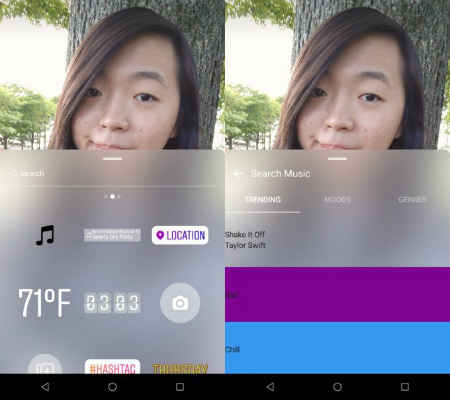 Users will be able to search the said music stickers using tabs for "Genres", "Moods", and "Trending". It is speculated that the feature works when the user picks a song and add it as a music sticker to their story. This could allow a short clip of the song to play along with the story but it's also speculated that at launch, the stickers will only display the song title and artist information. These stickers could also be used on photos and the company could work with a partner for implementing the feature.
At the recent F8 developer conference, Facebook announced that Instagram will soon support video calling for direct messages, along with support for placing group video calls. The app has also been updated for moderating offensive comment using filters to protect users from bullying comments. The third-party app integration with Instagram Stories was also announced at the event. Users will soon be able to directly share content from apps like GoPro and Spotify to their stories, along with sharing stickers of the music they are listening to on Spotify directly to their stories, as well as their GoPro footage. There are also new AR effects, which include face filters and world effects that a user can try.