Back in May this year, Facebook announced some new changes for Instagram at its F8 developer conference. One of these changes included a new look for the built-in camera app that categorised features into different tabs such as Live, Camera and Create. IANS reports that the new features are now rolling out for Instagram users in India and they render a new look to the app with a semi-circular wheel at the bottom. This wheel features three aforementioned options where the Live tab consists of Augmented Reality (AR) filters. The Camera option contains Super zoom, Boomerang and Hands-Free Forward options, which are supplemented by AR filters when one swipes to the left on the bottom.
There is also a Create tab that nests options like Tap to Type, Ask me a question, polls and countdown. As the name suggests, the Create option is aimed at making it easier to create posts, polls and interactive Stories. The new design was spotted earlier in March by the Reverse engineer Jane Manchun Wong who tweeted, "Instagram is working on new 'Stories' user-interface, inspired from mechanical circular mode switcher in DSLRs." We checked for the new camera revamp in Instagram, on our devices, but couldn't spot it on either Android or iOS devices in our labs. The company might be enabling the new features from the server side and if this is the case, it could take some time for the new features to show up.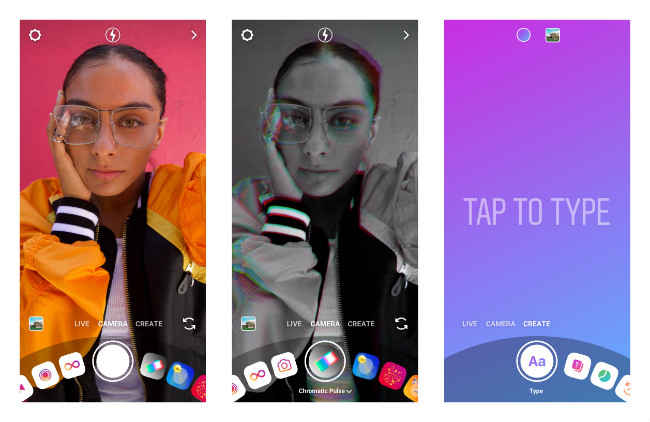 The new report comes soon after the company rolled out landscape videos in IGTV. in addition to viewing vertical videos, users of the popular image-based social media app will be able to watch videos in regular landscape orientation. The change is apparently to help creators deliver content where they can fit more info and visuals in one frame. Additionally, those who create landscape videos to post it on YouTube had to cut videos weirdly (think vertical crop) to get them on Instagram. You can read more about this here.