We won't be hearing about TikTok for a while now. The viral video sharing app has been banned by the Indian Government along with 58 other apps originating out of China, and this one's not a hoax. The order came straight The Ministry of Information Technology, invoking the power under section 69A of the IT Act 2009, based on "information available they are engaged in activities which are prejudicial to sovereignty and integrity of India, defence of India, security of state and public order."
The appendix lists out popular apps like UC Browser, Shareit, Helo, Likee, WeChat, ES File Explorer and a bunch of utility and community apps, including that of Xiaomi.
Among the 59 apps, TikTok is certainly the largest, and would probably be missed a lot. Based on stats provided by Apptrace, it's presently ranked fourth in India on the Google Play Store and ranked sixth on the App Store. And the viral short video platform boasts a whopping 119 million active users in India alone!
Popular sentiments nonetheless, TikTok had become a viral phenomenon among teenagers and young adults who participate in lip-syncing songs, comedic skits and viral challenges, which gets consumed and shared millions of times. Even if you are not on TikTok, chances are, you hear about the app or the 'TikTokers' every few days.
The app has now been taken down from the Google Playstore and the Apple Appstore. Considering the influential platform it had become, banning the app would certainly have an impact on these creators, and the popularity and following they command. Digit.in spoke to two popular tech TikTokers to find out how they feel about the ban —
Aarish Khan, 19.
A.K.Technical Point
1.7 million followers on TikTok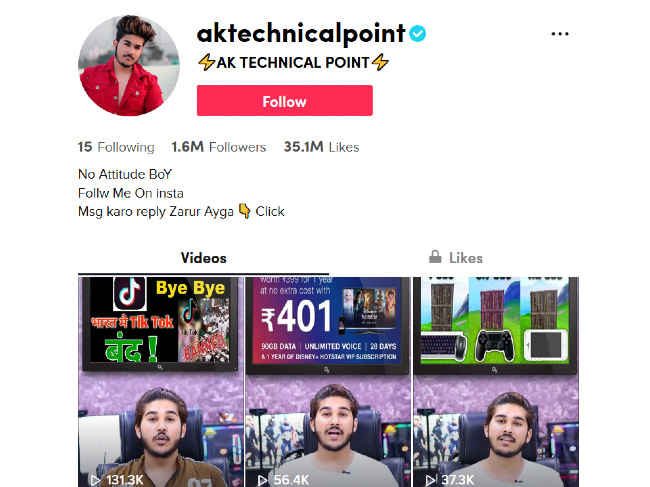 The conversation happened in Hindi. We have translated it to English.
Do you think it was right for the Government to ban TikTok?
I've been on TikTok for 2 years now and gained a lot of followers. Earlier, I used to spend more than two hours a day scrolling on the app and it's very addictive. But I don't think it should be banned. Instead, TikTok should work at removing hateful content from the platform.
How will you reach out to your audience?
I have asked my followers to start following me on Instagram, as I think that's the only other platform where I can upload my videos. I also had a good 2.7 million following on Likee (another social media app banned among the 59 apps). There are Indian apps also that are like TikTok, but I don't think they are as good. I have also heard YouTube is working on a short video platform. I might join that.
Vijay Karthikeyan, 36
Techboss India
233k followers on TikTok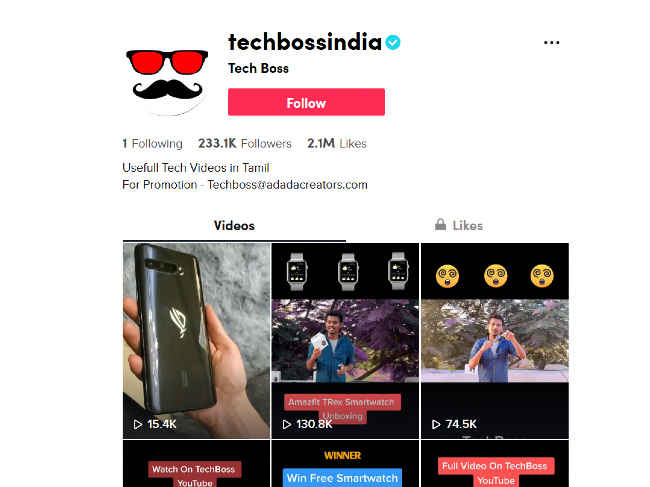 Do you think TikTok is a bad influence?
Yes. TikTok is certainly very addictive. They have a simple user interface anyone can use and you can end up spending a lot of time browsing it. While I do have a lot of followers, I support the Indian government's move to ban TikTok and other Chinese apps because they are posing a threat to our national security by stealing our data.
Are you thinking of joining other short video platforms?
Right now, I will focus more on YouTube. That's where most of my audience comes from. I have also heard of a bunch of Indian apps that are like TikTok but for now, I will sit and observe what happens and then decide if I want to join another platform.
Was it right to ban TikTok in India?
TikTok, like any other social network, may feel addictive to young users, but the app is also designed in a way that incentivises you to keep scrolling and engaging. Speaking to a counselling psychologist who works with children in India, we learnt teenagers sometimes spend more than 5-6 hours getting a TikTok video right.
"I absolutely support the ban of TikTok. And I'm happy yesterday itself it was declared banned in India, but it should be all around the world too. People need to understand the side effects of it, " said Saleha Bootwala, a counselling psychologist based out of Pune.
However, TikTok is only considering this an interim ban and has complied with it by taking down the apps from the app stores. TikTok India has been invited to meet with concerned government stakeholders for an opportunity to respond and submit clarifications. It's also not the first time the app was banned. Previously, the Madras High Court had asked the app to be removed citing pornographic content, but that ban was soon lifted. The present order is far more sweeping and includes a lot more apps, and came at a time when nationalistic sentiments are at an all-time high.
"TikTok has democratized the internet by making it available in 14 Indian languages, with hundreds of millions of users, artists, storytellers, educators and performers depending on it for their livelihood, many of whom are first-time internet users," said Nikhil Gandhi, Head of TikTok, India
The company said in a statement that it continues to comply with all data privacy and security requirements under Indian law and have not shared any information of our users in India with any foreign government, including the Chinese Government.