Google India and the Archaelogical Survey of India who recently teamed up together in order to create 360-degree online views of almost 100 national monuments have unveiled the project, the Ministry of Culture said in a press release today.
From today, people from around the world will be able to explore the Taj Mahal and other national Indian monuments online through Street View.
The project aimed to create a panoramic imagery of the "nationally important" monuments like Taj Mahal, Humayun's Tomb, Khajuraho, Red Fort and Agra Fort, etc. In order to make India's 100 most important heritage sites more accessible for the world, ASI teamed up with Google. The search giant says that it aims to share more of the Indian culture and heritage with people around the world.
"Today, this partnership with Google makes it possible for billions of people across the world to see and explore our magnificent heritage, to take a walk at the Rock Cut Jain Temple, to marvel at the Nagarjuna Konda Buddhist Stupas and to relive history in Fatehpur Sikri." Union Minister of Culture, Smt. Chandresh Kumari Katoch said.
Speaking to the press, Rajan Anandan, Vice President and Managing Director, Google India said, " Google is deeply committed to helping preserve and showcase cultural heritage across the world. India is unique in terms of the sheer wealth of heritage and iconic historical monuments, and it has been our privilege to work with the ASI in collecting new 360-degree photos of 30 Indian heritage sites. We hope the imagery will help make India's heritage and culture more accessible to people at home and abroad."
So far, Google has released the first set of 360 degree online images of 30 monuments and will slowly keep adding other heritage sites. The annoucements for new releases will be made on Google Maps and Google Cultural Insitute sites.
Google uses street view cars to take multiple photographs of streets and buildings and attaches them together to create a panoramic views of these places.
Here's the map of the areas in the world which can be viewed through Google's Street View.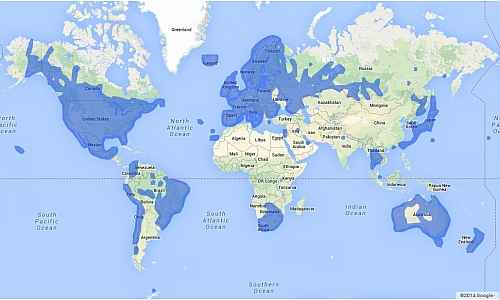 In order to view these monuments in a 3D view, go to Google Street View and search for the monument. Here's how Taj Mahal looks on Street View.