Google is testing a new file manager app called 'Files Go' for its Android users. The app comes with a feature that allows users to share files offline, similar to the AirDrop function found on Apple devices. According to a report by 9to5Google, the file manager app is under the early access program and currently available only for select emerging markets. We were successfully able to download the app and it features various options such as recommendations for removing unused apps, duplicate files and images, and the above mentioned offline files sharing feature.
The app sports a simple interface with two tabs, Storage and Files, being displayed at the bottom. Under the Files tab, a user's data is grouped into different categories like images, video, documents and audio. The tab also shows a "Transfer securely without Internet" option, which the app's Google Play description says, can send files "fast" to nearby friends. The other Storage tab displays the amount of free space available on users' device, along with options to clean cache and rarely used apps.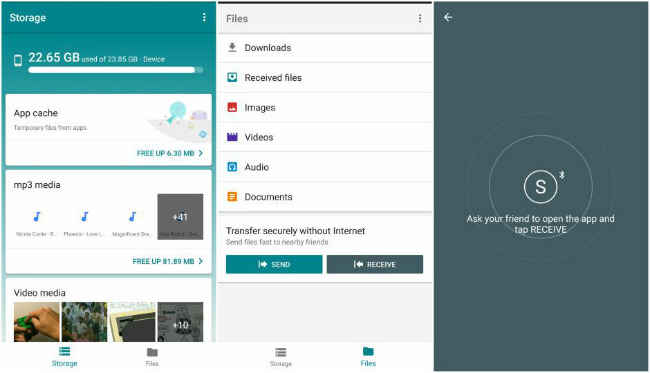 The Go suffix on the Files Go app, similar to the YouTube Go app, hints that it's a part Google's Android Go project. The project's primary focus is providing optimised software experience on low-end phones in emerging markets such as India.
Google Assistant was also recently updated by the company and now allows users to set daily subscriptions or reminders for various services such as weather updates, facts and more. Users can set a subscription for the service they want by either saying or typing the update they want like: 'send me a fun fact everyday' to get daily facts or 'send me weather everyday' to receive daily weather updates. You can read more about the new Google Assistant feature here.