Google has launched a new look for its Google news mobile app. The redesigned app is available for both iOS and Android and offers improved performance, customized layouts and simplified navigation for users.
Google news for mobile will now feature 'story cards', that presents each news story as a separate 'card'. The user can also opt for larger 'story cards' that will give more information per story through the settings menu. The new app also lets you customize the look from light to dark, as well as the font size. According to Google the new look also offers simplified navigation within the news section and better integration with Google feedback located in the menu at the top right.
The revamped app also includes several features from its desktop counterpart. It has a weather gadget in the local section, and also a popular editors pick option. Related posts from Google are also included in the app. Users can check out the service from news.google.com from Chrome or Safari on their Android or iOS device. The app has been initially launched in the US and will be launched globally soon.
Google recently updated its Google search for Android in a new update. The app now lets you search for information not only on the web but also within apps. Google stated that the search will show results from Google Play as well as third party apps. The results will be displayed in two sections. An 'Open in App' feature takes will display results from apps already installed on your smartphone. The second will be under 'Google Play Buttons' which will take you to apps on the Google play store.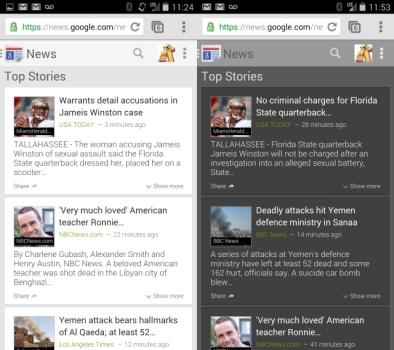 Source: Google News Blog