Highlights:
Google Maps has rolled out speed trap and accident reporting feature
Users in India are also getting the feature
As of now, it seems to be available to Android users only
Earlier this year, some users in the US saw a new feature in Google Maps that displayed speed limit and speed cameras. In the latest development, users globally are getting another update that will enable them to report an accident or a speed trap in the app itself if they encounter one during their journey. Users in India have also received the update and this could help them reach their destinations safer, faster and without getting in trouble with the law.
Though Google has not officially announced the update roll out, you can find it in the Google Maps app on Android. It seems that the feature is not available on iOS yet, and it could be rolled out the Apple-developed OS soon. The speed trap feature is supposed to help commuters know if there are any speed cameras along the route with the help of a small camera icon. The feature could also be used to dodge any attempt of the regulating authorities to catch the defaulters.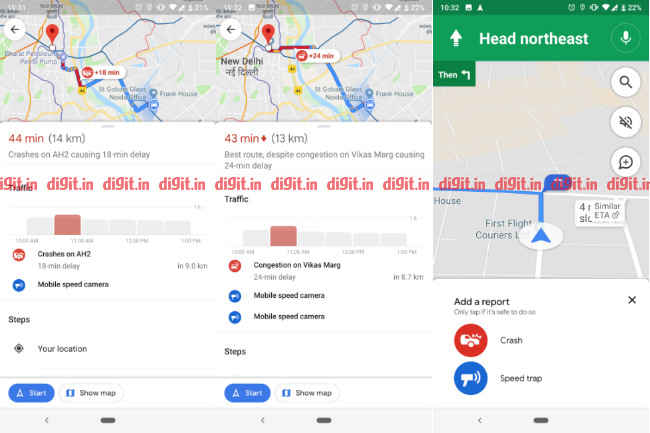 If there is a speed trap icon on the map, defaulters can be intimated beforehand. By knowing about the trap, they can drive under the speed limit in that area. While the feature was noticed yesterday, reports on Reddit suggest that it has been rolling out since the weekend. Interestingly, there was no update about this feature on the Play Store, and the last update in India was about the charging stations for electric vehicles.
Google has been working hard to make Maps a very powerful navigation tool. In the previous major update, the company brought a feature to Android users that assists them in improving the planning of their trip. The new feature allows Maps users to schedule both arrival and departure times. To use the feature, a user needs to type the address where he/she wants to navigate to. Once done, the user should tap the overflow menu, navigate to the "Set depart & arrive time" option and set either the departure time from a location or the arrival time to a certain location.
Related Read:
Google Maps on Android now supports auto rickshaws for public transport users in Delhi