Highlights:
Google is testing new Messages feature in its Google Maps app
The feature will enable one to chat with businesses
Google is testing a new feature that might make it easier for users to connect with businesses on Google Maps. It was first noted by the Redditor u/sanju2cool and we checked to find that the feature also shows up for some businesses on Maps. One will find a 'Message' tab for some businesses, alongside the Directions, Call and Save options. Tapping on it brings up a chat window where one can send their queries to the business and hopefully, receive a reply soon. There is also an option to delete the chat or block/report the business chat as spam.
When one boots up the Maps app, they might see an option to access all Messages and conversations that had with businesses. This option is nested under the hamburger menu and tapping on it will show all the chats they had with a business listing and it makes it easier for users to revisit the chat without needing to find individual businesses on Maps. We noted that the Message option does not show up when one simply taps on a business listing and only when one swipes up to get more information about it.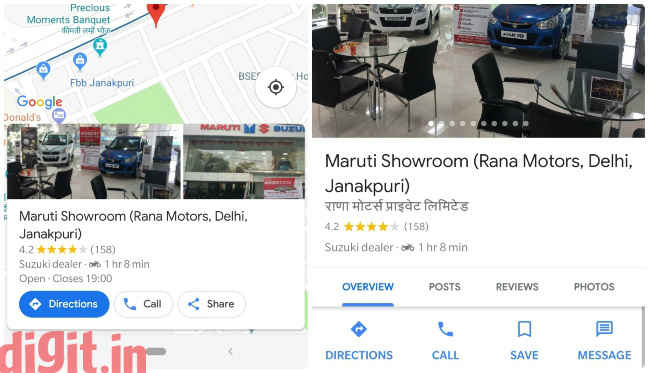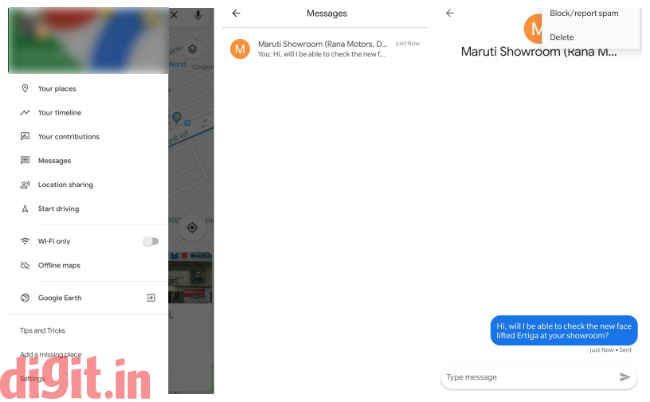 Google had announced this feature back in November 2018 and said that it will soon roll out for users on Android and iOS. The company didn't confirm whether the feature will make its way to India but it is seemingly being tested. So, it might be safe to assume that we could soon see a broad rollout of this feature. The feature will work if the establishment has agreed to accept messages and signed up for a Business profile. Businesses that want to accept messages from customers can install the new Google My Business app from Google Play or the App Store to sign up and enable messages.
Related Reads: Google Maps now lets users message and chat with businesses