Google has announced a change in its Android security system that will ensure that apps on your smartphone are safe from malicious software. "Verify Apps" by Google earlier used to scan apps for malicious code at the time of installation. "From now on, the program will expand and will continuously check the device even after installation to make sure that apps are "behaving in a safe manner," Google announced in a blog post.
The continuous app scanning will mean that if an app changes permissions on a later day, (like the ability to access your calendar, read your messages, etc.), Google's Android Verify Apps program will keep a check on them and make sure they are not affected by malware. The new continuous checks use the same app-scanning technology that Google already uses for Android and also in its Chrome browser. Google adds that the regular "Verify apps" feature in Android has been used more than 4 billion times till now.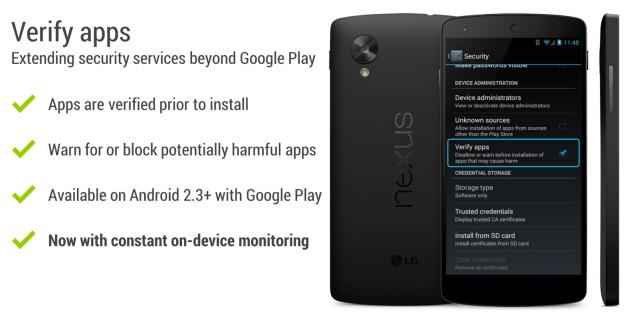 Verify Apps is a part of Google's Android "bouncer" program released in February 2012. These 'Bouncer' scans check every app in Google Play Store against a list of known malware bugs and if an app is flagged as malicious, the app will send a warning to the user asking them not to install the app or Google may even block it. The Verify Apps feature is enabled for Android devices running v2.3 or higher.
The new security feature comes after a fake anti-virus app Virus Shield was discovered on the Google Play Store last week. The top rated app was available for $3.99 from the app store and claimed to protect your smartphone from harmful malware. After thousands of users downloaded the app, it was discovered that the app actually didn't do anything. Google has since then removed the app from the Google Play store.
Source: Android Blog