Highlights:
Firefox Lockbox launches for Android devices.
The app lets users sync passwords saved in the web browser to Android devices.
To sync the credentials, users just need to download the app and login to Firefox account.

At a time when the cyber world is bombarded with threats of password theft, Mozilla has launched a solution for users of Firefox web browser to safeguard their login credentials on their Android devices as well. Called Firefox Lockbox, the app extension takes the passwords stored on the web to your Android devices so that you have the credentials even when you are on-the-go. Moreover, users do not have to perform any setup activity to link their web browser and Android app; they just need to download the app on their devices and log into the Firefox browser.
"If you're like most Firefox users, you have dozens if not hundreds of stored logins in your browser. When you use Firefox Accounts you get to take your logins on the web in Firefox Mobile. Today, many of those logins are the same ones used in the apps you download on mobile, so we've been working on making your various online identities work on your terms. Today, we are excited to bring Firefox Lockbox to Android users, a secure app that keeps people's passwords with them wherever they go," Nick Nguyen, Mozilla's Vice President of Firefox Product, said in a blog.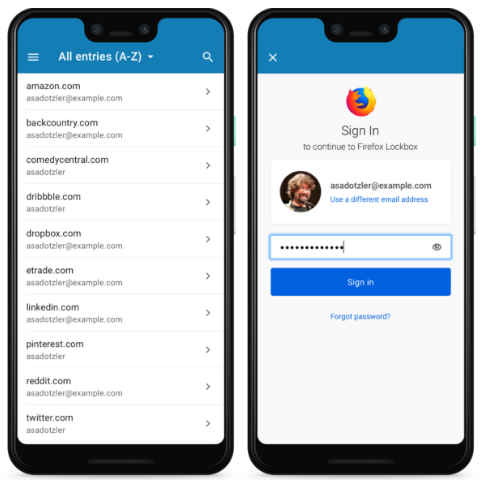 Some of you may wonder, why would you want to safelock a password when you can remember it. Imagine this: You are at your friend's place on a weekend and decide to watch a football match on an app. Since, you haven't logged-in to that account at your home for long because you have already saved the credentials on your device, recalling the password at that moment to login on your friend's place could be a problem. At this moment, Firefox Lockbox could come in handy to quickly retrieve the password.
For security, Mozilla has implemented 256-bit encryption to keep the passwords safe. Further, users can use Face ID and Fingerprint touch (depends on the device support) to unlock the app. The app was launched for iOS last year and the company claims that it has had more than 50,000 downloads, and was most recently optimised for iPad. Earlier this month, Mozilla launched Firefox Send, a free end-to-end encrypted file sharing service that allows users to send files up to 2.5GB in size using the Firefox browser. The receiver will get a link to download the files once the upload is complete. The link automatically expires after sometime to protect the data shared.
Related Read:
Firefox gives users more control over their privacy settings with 'Strict' mode
Firefox Focus for Android updated with anti-tracking and safety tools, iOS version gets search suggestions