Want to modernise your banking loan application?
Build an application that analyses credit risk with #IBMCloud Pak for Data on #RedHat #OpenShift
Click here to know more
Advertisements
Facebook has launched a new app called 'Study From Facebook' on the Google Play Store. The company describes the app as a market research tool which will compensate participants for letting Facebook monitor their app usage and activity. Study From Facebook will collect information about the apps installed on a user's smartphone, the amount of time the user spends on those apps, and the features used within those apps in the form of app activity names. The tool seems to be Facebook's way of amassing data on competition. Data about the apps on a person's smartphone and the activity within it is highly valuable for companies like Facebook, which rely on this data to develop future services and features across their products.
Currently, the Study From Facebook app is only available in India and the US. Given security and privacy restriction of iOS, the app is currently only available for Android users with access to Play Store. While Facebook has said that participants of the Study From Facebook app will be compensated, the company has not revealed any details about the compensation.
Facebook has partnered with Applause to manage its market research programme and the company will manage the registration process, all compensation to participants, and customer support.
To get started with Study From Facebook, interested participants can download the app from the Play Store. Alternatively, Facebook will be advertising the app to encourage participation. "When someone clicks on an ad, they'll have the option to register and, if they qualify, they'll be invited to download the app," Facebook writes in its blog post.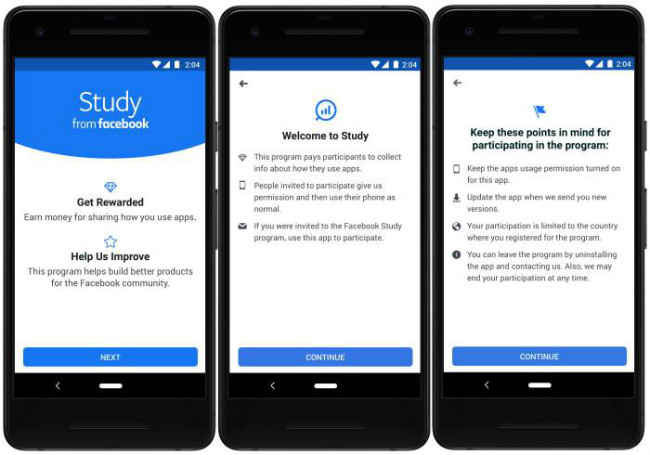 We tried downloading and registering for the app directly through the Play Store. Once downloaded, the app asks users to register using their email ID, where a code is sent to complete the registration process. Unfortunately, we were unable to generate a code after multiple attempts. This could be because Facebook wants it to be an invite-only registration. Which means that Facebook will target certain users for this market research study and it's not open for all.
The new market research app from Facebook follows the controversy that engulfed its previous app, Facebook Research. The said app was banned by Apple following allegations that it was spying on teenagers by accessing all the data passing through their phones in exchange of up to $20 a month.
With the new app, the company promises users it will not "collect user IDs, passwords, or any of the participant's content, such as photos, videos, or messages." Further, Facebook adds that it won't sell information from the app to third parties or use it to target ads at users. The app is also not added to a participant's Facebook account if they have one.
"Info from participants helps us learn which apps people value and how they're used. We're able to better understand our community to improve Facebook Company Products," the company noted on the Study From Facebook page.