Highlights:
The Canary build of Chrome browser gets a dark mode on Android
The dark mode renders the content within the browser windows dark
A system-wide dark mode could be introduced in the next version of Android
Chrome will soon join the long list of applications that support dark mode by default. Two months ago, we'd reported that Google had been working to bring native dark mode support to its popular browser on Windows 10. A fresh update from 9to5Google tells us that dark mode has now been included in the latest build (ver. 74.0) of Chrome Canary for Android and that one need only toggle a Chrome flag to see it in action. Unlike previous demos of dark mode on Chrome Canary, the updated feature in the latest build renders only the content in the browser window dark and not the browser UI.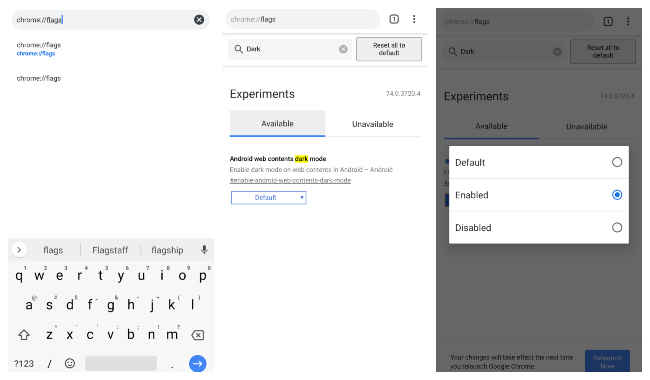 To enable this dark mode in the latest build of Chrome Canary, you have to toggle a feature flag called "#enable-android-web-contents-dark-mode". To do this, visit chrome://flags and search for "Dark Mode" using the search bar. Once you've found it, click on the dropdown button below the flag and change it from Default to Enabled. Chrome will then prompt you to relaunch the application so the changes can take effect. Hit Relaunch and expect to see no change to the homepage however.
Curious to see how far Google had come with the new feature under test, we fired up our resident Google Pixel 2 XL and opened Chrome Canary. With the new dark mode enabled, we saw the Google search results page appearing well-rendered. When we opened a news article from our website, the background went from being full black to dark grey. Sadly, some elements within the page flashed white as we scrolled up and down. Naturally, we don't expect the rendering to be perfect at this point but we do expect it to get better by the time the feature rolls out to the stable version of the browser.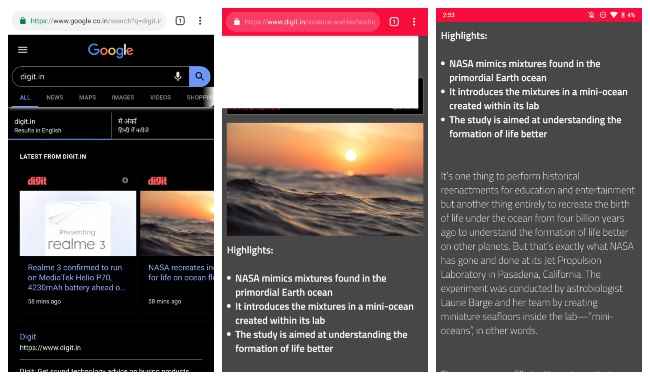 You'll notice that enabling this dark mode only renders the content of pages dark and not the UI of the browser itself, which is what a dark mode in most applications does. In fact, Google has even named the flag "...web-contents-dark-mode" so users don't get the wrong idea. That said, Google is expected to roll out a system-wide dark mode feature in the next version of Android, which should decide the colour scheme of the browser's UI as well. We expect this dark mode for content on pages to roll out to the stable version of Chrome in the coming weeks.
Related Read: Google working to bring native dark mode on Windows 10