Highlights:
Google is enabling Slices for Settings on Pixel phones.
One can directly search for some settings and get an option to toggle them in Google Search.
The new feature is said to be enabled from the server side.

Google introduced the 'Slices' feature with Android 9 Pie. The option basically enables users to get to important options in an app by simply searching for them. For example, if one books cabs frequently via a particular app, the feature would directly show you the option to book a ride without the need to open the app first. Slices for some settings is now being implemented in the Google app for Pixel phones. First spotted by 9to5Google, some of the options include a toggle switch for some settings like Bluetooth and Wi-Fi, along with some context for the latter like what Wi-Fi network the user is connected to at the moment.
As per the report, Slices are also showing up for some other settings with interactive options. When one searches for Alarm Volume in the Google Search field, the option shows up with a slider to adjust the volume level. While the report states that Slices for some settings can take a few seconds to load, we found that they show up quite instantaneously on our Pixel units. Search with partial terms also yields Slices. However, the Google app needs to be updated to the latest version for the new feature to work.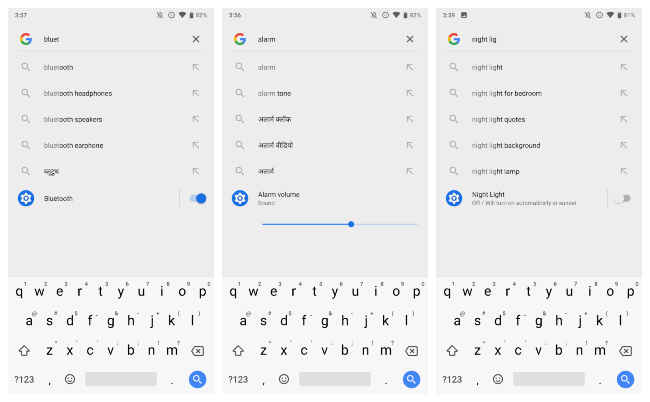 Google is yet to officially announce the new Slices that's being rolled out to devices. The company did announce that the Google Assistant would be integrated in Android Messages and would also enable voice typing in KaiOS-based feature phones. The company's Assistant might appear as a button when one is using the Messages app to text someone, perhaps in the smart replies section. If you tap on the button, you can ask it a question, and the answer will be populated in the text field. This feature, for now, is limited to the English language.
Related Reads:
MWC 2019: Google Assistant comes to Android Messages, brings voice typing, Actions to KaiOS running feature phones