Working from home?
Don't forget about the most important equipment in your arsenal
Click here to know more
Airtel has launched its new Wynk Tube music and video streaming app on Android. The new app rivals other video and music streaming services like YouTube Music, Amazon Music, and Spotify, among others. One can download the Wynk Tube app from the Google Play Store and similar to YouTube Music, the Wynk Tube app enables users to stream songs from the company's library of audio and they can also choose to switch to its video, if they want. Airtel says that the app had 10,000 beta users in January and a complete launch happened on April 11. As for subscription plans, Airtel subscribers can use the apps' services for free. For other users, Airtel is currently offering a 30 day free trial to the app, after which one needs to pay Rs 99 per month to avail premium services.
As per the telco, out of 350 million internet users, there are over 100 million users who steam music in India. The company wants to target the masses and it is aiming to lure users by offering music in regional languages and with features like voice search, tailored music recommendations, easier content discovery, offline downloads and more. Airtel says it has been tweaking the apps' recommendations engine, which is said to employ machine learning algorithms for six months to refine and deliver better suggestions every time the app is used. Thanks to the recommendation engine, weekly playlists will be curated for a user based on their listening history. The app will not replace Wynk Music but is an extension to it and is also available for Android Go phones.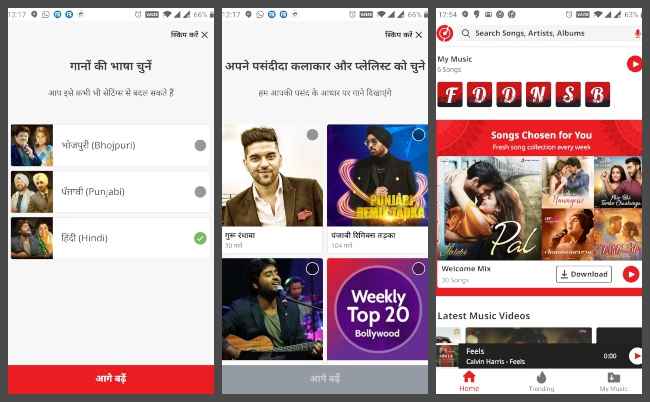 We tried the app to find some similarities between it and YouTube Music is. Answering Digit's questions on the similarities, Sameer Batra, CEO of content and apps, Bharti Airtel says that unlike YouTube Music, the company doesn't charge users for toggling between music and video. Airtel adds that while the timing might feel like the Wynk Tube app is inspired by them (YouTube Music) but it's not. The feature to toggle was created after taking feedback from users. The new app uses Airtel's own music video library where videos are hosted but YouTube is also being used to stream videos. Regional music is said to be powering consumption on other Airtel apps as well, says the company.
Airtel aims to capture users from tier 2 and tier 3 cities with its Wynk Tube app, which is merely 5MB in size and has launched with a library of over 40 lakh songs and related videos. While the apps' interface language can currently be switched between English and Hindi, it will soon get support for a total of 12 Indic languages including support for Kannada, Marathi, Telugu, Tamil, Bhojpuri and others. The app also pulls locally stored music files so that one need not switch to another app to listen to locally stored audio and also supports Picture-in-Picture mode.