Facebook will reportedly provide additional information for Direct Messages received by users from unknown senders. These security labels will help better identify spam messages on Facebook Messenger.
After introducing Forward Labels on WhatsApp to label forwarded messages on the platform clearly, Facebook is now testing additional security labels for Direct Messages on Facebook Messenger. The additional security information will be be displayed on DMs received from unknown senders on Facebook Messenger. The new feature seems to be a result of Facebook and its subsidiary WhatsApp coming under the scanner for enabling the spread of Fake News.
A Motherboard report notes that the new feature on Facebook Messenger will provide additional context to users who receive Direct Messages on Facebook Messenger from people who are not in their friend list. It is hard to determine if a message from an unknown sender was sent through a fake account or by someone pretending to be a friend, so Facebook will now provide additional security labels with these messages displaying information about whether the sender's account was created recently, which country the message originated from and what sort of phone number was used to send the message.
"We are testing a way to provide people with more context on folks they may not have connected with previously," Dalya Browne from Facebook's Messenger team told the publication in an email. The publication also got hold of a screenshot of how these DMs will be displayed once the feature rolls out to Messenger. You can see the image below.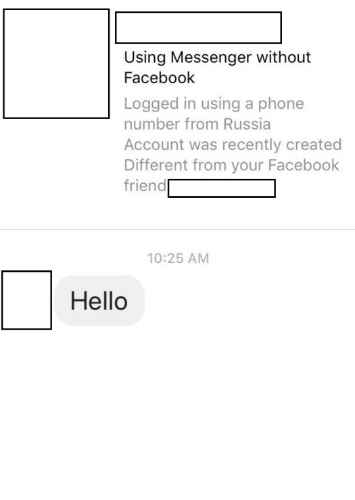 Facebook has been in the midst of the entire fake news crisis because of how misinformation spread through the platform resulting in biased public opinion. The social media platform has also been actively taking steps to fight misinformation. In India, Facebook recently partnered with Boom, a Mumbai-based independent fact-checker to flag and de-rank fake news stories originating from Karnataka. Facebook also uses AI and related articles to filter out fake news stories and when an article is verified as inaccurate by the company's third-party fact-checkers, Facebook shrinks the size of the link post in the News Feed.